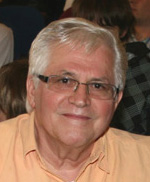 Forty years of research, educational experiment and experience, fifteen years reflection on content and form, four working years on writing and finally one and a half year for realization: with the support of the Roland company, the first volume of "The accordion [non] method" by the founder of CNIMA J. Mornet (Centre National et International de Musique et d'Acordéon), and General Secretary of CMA, has been published in 2012.

A 84 pages book in French and English (just a few text) and 2 DVD's for 4 hours 20 mins of video with 8 languages subtitles (English, Italian, Dutch, Japanese, Chinese, Russian, Spanish, German): this first volume is for digital V-accordions and also for acoustic accordions, buttons, piano, standard or free bass of all systems.

Jacques Mornet develops here the basis of his pedagogical system centred on research for musicality by acquisition of the fundamental reflexes, by the set of sounds articulations, by the use of the body, the optimal use of bellows, …

This is an educational system which has made the students of the CNIMA J. Mornet, let us remind everyone, achieve a most impressive list of international competition successes over the years but also, every year, more than four hundred trainees of all levels are tutored at CNIMA and rewarded by the happiness of optimizing their progress, each at their own pace.
---

Quarante ans de recherche et d'expériences pédagogiques, 15 ans de réflexion sur le fond et la forme, quatre ans de travail sur l'écriture et enfin un an et demi de réalisation : avec le soutien de la firme Roland, le premier volume de la [non] méthode d'accordéon du fondateur du CNIMA et secrétaire général de la CMA, est paru cet été.

Composé d'un manuel de 84 pages français/anglais et de deux DVDs pour un total de 4 h 20 ( !) de vidéo sous-titrée en 8 langues (Anglais, italien, néerlandais, russe, chinois, japonais, espagnol, allemand), ce premier volume est applicable au V-accordéon numérique mais aussi à l'accordéon acoustique, boutons, piano, basses standards ou chromatique et tous systèmes.

Jacques Mornet y développe les bases de son système pédagogique axé sur la recherche de la musicalité par l'acquisition des réflexes fondamentaux, par le jeu des articulations, par l'utilisation du corps, le maniement optimal du soufflet, … Un système pédagogique qui vaut aux étudiants du CNIMA J. Mornet (Centre National et International de Musique et d'Acordéon),, rappelons-le, le plus beau palmarès mondial en concours internationaux mais aussi chaque année à plus de quatre cent stagiaires de tous niveaux le bonheur d'optimiser leur progression, chacun(e) à son rythme. Pourquoi [non] méthode ? Voir page 3 !