This exciting new eBook is going to be
released, approximately one chapter per month.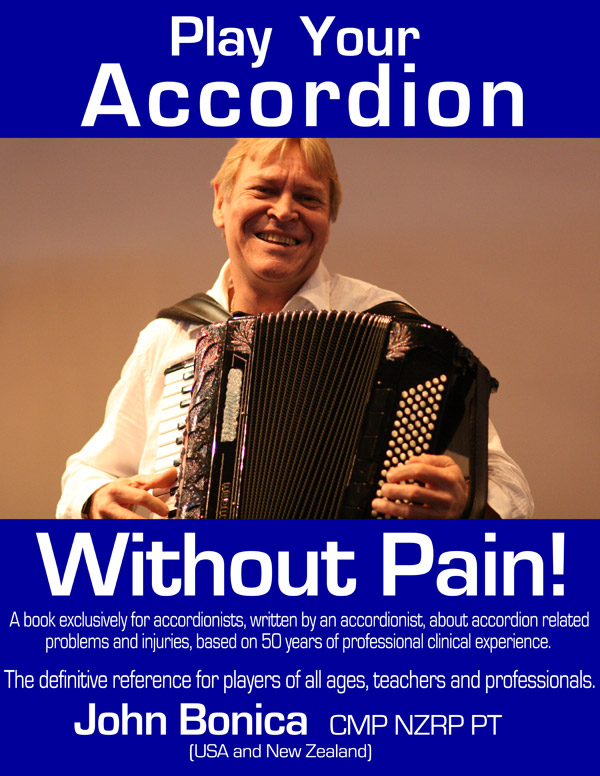 Read about the author John Bonica below and find out why this book will be:
"The definitive reference for players of all ages, teachers and professionals."
This exciting ebook will be published chapter by chapter, at least one chapter per month. There will be a minimum of 24 chapters. You can purchase the whole book for US$22 (or Euro equivalent) and be sent each chapter by email as it is released. This is an ebook so it will be sent to you as as Acrobat pdf. Disclaimer/Risk: At this special introductory offer price, if for any reason the author cannot complete the book, there will be no refund. By purchasing the not yet completed book at this special introductory offer price, you agree to accept this risk. Future price is expected to be US$33.

Released To Date:
Introduction
Chapter 1 - An Overview
Chapter 2 - Learning to Read Your Body's Signals
Chapter 3 - Neck and Neck-Related Symptoms
Chapter 4 - The Shoulder
Chapter 5 - The Amazing Brain and What It Does For You
Chapter 6 - The Elbow
Chapter 7 - The Great Accordion Myth Uncovered
Chapter 8 - The Elbow Revisited
Chapter 9 - Wrist and Fingers
Chapter 10 - Caring for our Ten Precious Digits
Chapter 11 - Low Back Pain
Chapter 12 - So You Have Low Back Pain ...... What Can You Do?
Chapter 13 - Back Pain, The More Serious Symptoms
Chapter 14 - The Great Imposters: Back Pain From Other Sources
Chapter 15 - Conditions That Primarily Affect Accordionists
Chapter 16 - Warm Up - Before You Play
Chapter 17 - The Accordion: A Back Breaker
Chapter 18 - Is Your Wrist Slowing Down Your Fingers
Chapter 19 - Frequently misdiagnosed medical conditions of the arm and hand - Carpal Tunnel Syndrome

This is an ebook so it will be sent to you as as Acrobat pdf. Other formats such as for the Barnes and Noble reader or Amazon Kindle may be available on request.

What Is Coming In Future Chapters - John Bonica
As this book will be published by monthly chapters I feel a preview of what you can expect from this comprehensive book written exclusively for accordionists covering a multitude of injuries, pain syndromes and accidents that can occur as our bodies age.

As I often quote, prevention is worth a thousand cures. It is better to know how to avoid potential injury, than to develop a problem and have to seek a way to overcome it.

I am certain that as the book develops there will be additional topics and chapters to discuss and provide guidance for as reader questions and requests come in from accordionists internationally.

It is my present understanding that the book may be published in several languages in the future thereby sharing ideas and treatment options from all over the world.

Future chapters will include the following topics;
- Basic relevent anatomy with pictorial examples.
- Low back, neck and thoracic conditions
- Headache, shoulder pain,
- tendinitis, ligament strain of elbow,tennis elbow,golfers elbow.
- Wrist,finger injury and pain.
- Numbness and\or tingling in arms/arm fingers or down the leg.
- Disc injuries (neck and back) Hip knee and ankle pain.
- When to see a medical doctor and what type of doctor to consult.
- Myths and misinformation from lay practioners and medical specialists.
- Chair height and your body type. Posture,lifting/carrying instruments
- Lighting and music stand height, practice habits.
- The value of stretch and exercise as it pertains to playing.
- The essentials of correct wrist angle and positioning affecting finger dexterity.
- The right and wrong way to hold the accordion with photos.
- Saving your eyesight. Wear and tear on your joints.
- Different body types, male and female.
- Exercise for wrist fingers and the muscles needed to manipulate the accordion (strength and dexterity)
- Rehabilitation of strained or stiff fingers.
- Backstraps (type and the need for)
- Bad habits to avoid. Good habits to adopt.
- Practice scheduling,pacing yourself.
- The significance of warning signs you should heed. The danger signals to heed and seek immediate medical attention for.
- Advice on helping your self to heal after stroke, surgery or injury.
- As questions come in from readers,and solutions are explored (a monthly inclusion) with the reader's approval, we will include the question and suggested course of action. I will include photographic examples when appropriate.

John Bonica PT CMP NZRP (New Zealand and USA)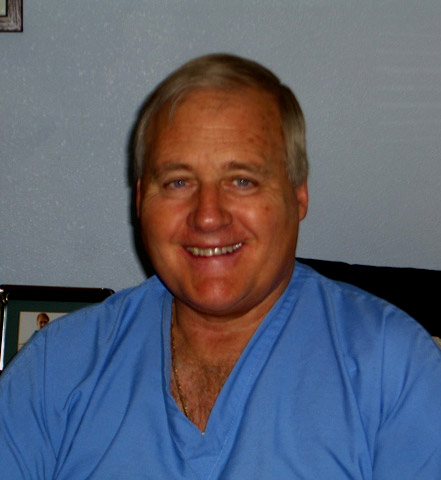 About the Author:
I was born, raised and educated in New Zealand of Italian parents. The accordion came naturally to me as my dad, his dad, and all his brothers played. Our house was filled with accordion music, singing, wine and pasta. They were happy days indeed!

In 1963 I graduated with a degree in manual physical therapy, a branch of physical medicine specializing in spinal and extremity trauma. I was fortunate to have had the opportunity to study under several of the finest minds around the world and then practiced for 17 years in New Zealand.

Since emigrating to the USA in 1980 to teach and further my studies in physical medicine, 31 years have passed. I am about to retire from active practice, having passed on much of what I have learned in nearly 50 years of healing painful bodies. I have always been fascinated with why things hurt, rather than being content to just relieve symptoms. My experience has enabled me to meet some of the legends of the accordion, and to help solve some of the injuries that can occur over time for many fellow accordionists.

I believe I have the distinct advantage over other health practitioners in that I have continued to actively play the accordion, though today spend my time in the recording studio, rather than keeping up a repetoire. Recording often for several hours at a time, gives me a better understanding of what it takes to play without injuring or straining the body, as I have never been hurt by my accordion activity.

As an accordionist for over 50 years, and my day job in the medical profession as a specialist in spinal, extremity joint, and soft tissue diagnosis and treatment, I have made a lifetime study of mechanical pain, and have at my disposal many different treatment and prevention options. I am able to utilize not just one method or theory, but many viewpoints and techniques to suit the diagnosis.

Not all injuries are exactly the same. Consequently the "one size fits all" regimen of exercise and strengthening to address an injury seldom produces satisfactory results.

Part of my treatment process is establishing the actual mechanical CAUSE of the pain and addressing this while teaching the patient what to avoid and what to do to prevent recurrence of the injury. PREVENTION IS WORTH A THOUSAND CURES. So says the old Chinese proverb, and it is true.

Over the years I have read much advice from professionals and well meaning amateurs given to accordionists when attempting to treat their various accordion related injuries. While the intent is well meant, it is often just plain wrong! This book, in part, will give you the knowledge and the direction to seek out appropriate care and advice, saving you time and money by avoiding practitioners that promise a cure, but do not deliver as promised. As a general principle avoid healthcare providers who tell you the cure will take months or years to achieve. Any solution that is worthwhile usually occurs in a few weeks, and relief of pain and improved function is progressively experienced early on in most cases. Longstanding injuries, or severe trauma are the exceptions.

This book is long overdue, and is designed to give the reader an understanding in plain easy to understand terms, how to recognize the early warning signs and avoid accordion related injury. I will cover basic self-treatment including preventative measures in order that you, the reader, may enjoy your chosen instrument for many more years without having to restrict, or give up playing completely because of injury.

Over my long career I have had the pleasure of meeting, personally treating and advising many accordion luminaries. Among them, to name just a few, are GallaRini, Semionov, Myron Floren, Jorgen Sundeqvist, Frank Marocco, Harley Jones and my good friends, Stas Venglevski and John Simkus, plus many more who have emailed, phoned or made the journey to my clinic for help. Necks, low backs, wrists, fingers, elbows, tendinitis, arthritis, carpal tunnel and shoulder weakness/injury can be involved mechanically and neurologically. Often the problems are chronic, complex and specific to the individual.

What works for one individual may not work as well for others, but the symptoms typically experienced by accordionists will be described in this book and may allow readers to identify the contributing cause of their problem or injury. They can then try the "do it yourself " suggestions I will outline. As a word of caution, if symptoms persist despite your efforts, or worsen, seek appropriate help from a medical professional earlier rather than later.

It has been suggested that this book be released by chapters rather than as a whole in order to get my message out sooner. I am available by email for consultation if needed, as I can often assess the problem and give constructive input so that proper care and cost-effective direction can be accessed, (a small charge may apply for time consuming consultations). Be aware that diagnosis from a distance can present difficulties with complex longstanding conditions, but I can hopefully guide you to an appropriate practitioner for help. Getting you on the right track in seeking effective treatment is my goal. My contact email is bonicael@teleport.com.

In the initial upcoming chapters I will be writing about myths, common injuries and pain associated with playing and transporting the instrument, as well as some easy to understand anatomy, specific symptoms and signs of impending injury, and what to do before the symptoms get out of control.

I hope to address various types of accordion, including bayan and bandoneon, but will initially focus on piano and chromatic accordion. I hope my information and guidance will help resolve the misinformation and myths regarding treatment options for physical problems arising from the playing of the accordion and extend your enjoyment and ability to play without pain well into your golden (rusty) years.

John Bonica PT CMP NZRP (New Zealand and USA) July 2012