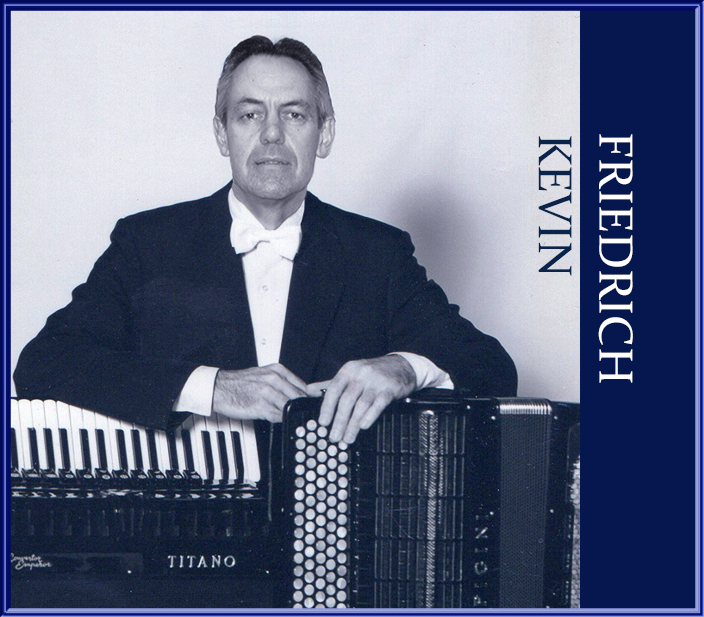 CD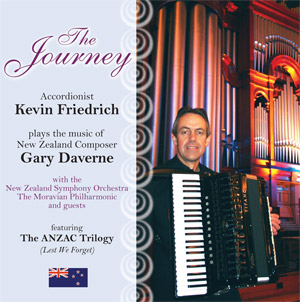 The Journey
Kevin Friedrich plays the music of Gary Daverne - Select track samples and ordering information

CD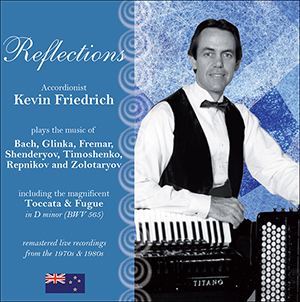 Reflections
Accordionist Kevin Friedrich plays the music of Bach, Glinka, Fremar, Shenderyev, Timoshenko, Repnikov and Zolotaryov. Album consists of remastered live recordings from the 1970s and 1980s - Select track samples and ordering information
Visit the Kevin Friedrich website for publicity photos, biography and contact details.
Kevin L. Friedrich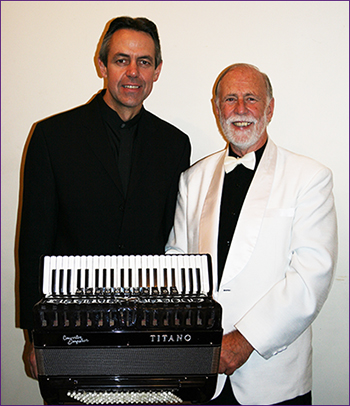 Introduction: 'The Journey' CD

The Journey of life can offer us unexpected opportunities. I have been blessed with many! An early opportunity in New Zealand to play the accordion began with lessons being offered at the Dargaville Primary School by Ben and Doreen Emmett. I was very fortunate that my parents Val and Athol Friedrich supported, believed in and continually encouraged my musical education from this time as a seven-year-old, right through to my Conservatory Degrees abroad and in fact, throughout my career.

Later, my first accordion teacher Doreen, who went on to play Viola in the Auckland Symphony Orchestra wrote to me in New York to alert me to the musical genius, open mindedness and creativity of their founder, Musical Director and renowned New Zealand composer Gary Daverne. She was sure he would consider working with the accordion either as a soloist or in creating a new work. This was the beginning of another life changing opportunity. Gary did indeed begin his association with the accordion. After making many arrangements for the Air New Zealand Accordion Orchestra, he wrote a major Concerto for Accordion and Symphony Orchestra called Rhapsody, which was premiered by my former teacher Harley Jones.

As I became acquainted with Gary, I asked if he would consider writing a piece for an ensemble, I was a member of for our concert tour of New Zealand, which he did. Since that time, Gary has created some of the most beautiful accordion music I have had the pleasure of playing, written for a variety of genres, many of which you will hear on this CD. I am forever appreciative of his friendship and inspired by his lyrical and thoughtful compositions, often created for specific people and projects. I have been the honoured recipient of many of his compositions during our 30-year collaboration. It is with great privilege that I have put together this CD showcasing some of that work. This is my story with Gary Daverne and now I invite you to enjoy "The Journey."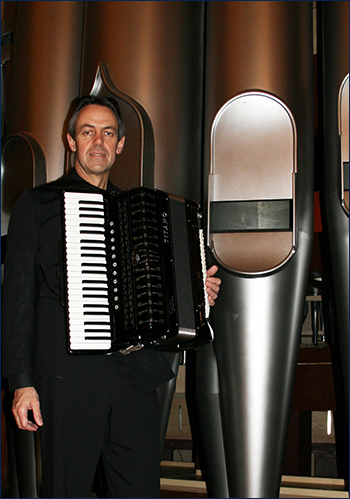 Introduction ' Reflections' CD

Over the course of my accordion career I have had the joy of performing an array of music spanning transcriptions, showcasing the genius of the great Masters such as Johann Sebastian Bach through to creative original works for the accordion. Many of these performances were in conjunction with my days of competing in International competitions such as the Confédération Internationale des Accordéonistes (CIA) Coupe Mondiale (1979, 1980 and 1981) and Klingenthal (1986) and during my Conservatory studies in both Kansas City (USA) and Paris (France).

One of the few regrets I have in life, is that I didn't professionally record all this magnificent repertoire at the time I was performing it. In those days it was a rapid succession of exams and competitions often enticing new works. In the excitement and challenge of learning, the older repertoire was often unceremoniously discarded, making way for the new. Fortunately not all was completely lost and there were occasions that my live performances were recorded. Often these were made on cassette tapes, as was common in the 1970s and 1980s. While not ideal in this age of digital recording, in the interest of preserving recordings for prosperity's sake, I feel blessed to have them. At the request of the New Zealand Accordion Association (NZAA) I have now compiled a series of my performances which will serve as an historical record of some of my work.

It's been such a wonderful trip down memory lane to remaster some of these old recordings, showcasing a cross section of some of my concert work. Some of the pieces are performed on my Pigini Super Sirius Bayan, (Instrument No. 85 - C System) and some on my Titano Emperor JW5 Piano Accordion (quint free bass system). Along with these live memorized performances, come a variety of considerations including external noises, imperfections in performance and the quality of the original tape. All these things could have been addressed and corrected in a recording studio at that time, but now have been captured for eternity due to the nature of live performance.

I am forever grateful for my teachers Harley Jones (New Zealand), Joan Cochran Sommers (USA) and Max Bonnay (France) for inspiring me to continually explore and learn a variety of repertoire, something I continue to this very day.As I look back over my career as an accordionist, I have great pleasure in presenting this CD highlighting a few of my live performances that I was lucky enough to find recordings of. Please join me in my 'Reflections'.
Kevin Friedrich - Bio

Born and raised in New Zealand, Kevin began playing the accordion at the age of seven. After earning the title of New Zealand Solo Accordion Champion in 1979 and 1980 while studying with well known New Zealand accordionist and teacher Harley Jones, Kevin moved to the United States to study accordion with Joan Cochran Sommers at the University of Missouri - Kansas City where he obtained his Bachelor of Music. He then gained his Performance Diploma a Conservatoire in Paris, France studying with Max Bonnay. Kevin served two four-year terms as President of the Confédération Internationale des Accordéonistes (CIA) and at the conclusion of his Presidency was elected as CIA Ambassador.

Kevin currently makes his home in New York City. His accordion activities include serving on the Board of Directors for both the American Accordionists' Association (AAA) and the Accordionists and Teachers Guild, International (ATG). Dedicated to preserving the history of the accordion, Kevin created his own Museum exhibition 'Accordion Gems, A Master Collection of Accordions Through Time at the Dargaville Museum, serves as 1st Vice President of the world's largest accordion museum 'A World of Accordions Museum' in Superior, Wisconsin and is Director of the World Accordion Museum Alliance, an initiative of the CIA.

For more information, please visit: www.accordions.com/kevin
The Journey
Kevin Friedrich plays the music of Gary Daverne - Select track samples and ordering information
Reflections
Accordionist Kevin Friedrich plays the music of Bach, Glinka, Fremar, Shenderyev, Timoshenko, Repnikov and Zolotaryov. Album consists of remastered live recordings performed on both piano and button accordions, from the 1970s and 1980s - Select track samples and ordering information