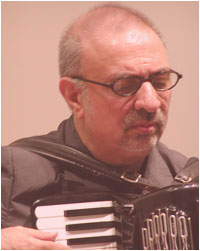 William Schimmel is a virtuoso accordionist, author, philosopher and composer. He is one of the principle architects in the tango revival in America, the resurgence of the accordion and the philosophy of Musical Reality (composition with pre-existing music). He received his diploma from the Neupauer Conservatory of Music and his BM, MS and DMA degrees from the Juilliard School. He has taught at the Juilliard School , Brooklyn College CUNY, Upsala College , Neupauer Conservatory (dean) and has lectured on accordion related subjects at Princeton , Columbia , Brandeis, University of Missouri , Duke University and the Graduate Center CUNY.

Regarded as the world's greatest accordionist by National Public Radio, he has performed with virtually every major symphony orchestra in America (and the Kirov ) including a longstanding relationship with the Minnesota Orchestra, as well as virtually every chamber music group in New York including Ensemble Sospeso and the Odeon Jazz Ensemble. Pop star colleagues range from Sting to Tom Waits, who has made the legendary statement: "Bill Schimmel doesn't play the accordion, he is the accordion". He is founder of the Tango Project, which, in addition to his hit recordings with them, has appeared with Al Pacino in the film: Scent of a Woman, for which Pacino won an Oscar.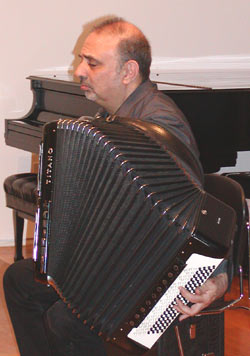 The Tango Project also won the Stereo Review Album of the Year Award, received a Grammy nomination and rose to number I on the Billboard Classical Charts. He can be heard in other films including True Lies, Kun Dun and .many others including films that he both scored and performed and a series of films for the Nature Conservancy which have won numerous prizes in documentary categories.

He is an authority of the music of Kurt Weill, having recorded all of Weill's music that employs the accordion.

He is a prolific composer with many commissions from concert music to Broadway and off-Broadway. He has written countless accordion pieces for himself and others including a test piece for the Coupe Mondiale, the accordions' most prestigious world competition. His Portrait No I for orchestra was conducted by the late Leopold Stockowski.

Dr. Schimmel's theatre works in collaboration with Micki Goodman have made accordion history.

He now heads the Neupauer Conservatory Order of the Shield program,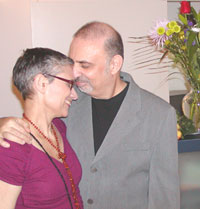 a private studies program for gifted students on a graduate and post graduate level. he conducts a successful three day master class and concert series sponsored by the American Accordionists' Association (where he is distinguished lecturer in residence) moving into its tenth season. The Confederations International of Accordionists have awarded Dr. Schimmel the distinguished merit award for the AAA Master Class and Concert Series as well as his contribution to the international accordion scene.

Keyboard Magazine has sited Dr. Schimmel as "best accordionist" and the figure who has done the most to promote the accordion in mainstream art forms including classical, jazz, rock and roll, world music and avant-garde.

Dr. Schimmel, and his wife, choreographer, director, filmmaker Micki Goodman co-founded and co- directs the Institute for Private Studies, a pluralistic think-tank. They have a 23 year old son, Michael, an accordionist and visual artist---and a Special Olympics gold medal winner.

---