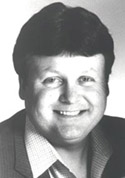 Gary Dahl is widely known as a virtuoso accordionist as well as a composer, arranger, recording artist and music educator, with an extensive background in music theory, composition and harmony. Gary has now developed an impressive body of work including hundreds of individual arrangements and more than a dozen books currently in publication by Mel Bay Publications.

As a recognized teacher, Gary provides specialized training for all levels of students. Gary's students have won national and state competitions as well as achieving professional status. While Gary resides in Puyallup, Washington near Seattle he provides lessons by correspondence for students worldwide.

Gary currently performs as a single for private functions. The Gary Dahl trio plus vocalist performed regularly at private clubs, hotels and the lounge circuit from 1960 through 1991. Gary is a graduate of the University of Washington specializing in composition and theory and is a former commerical corporate pilot, flight instructor and corporate sales manager.

The numerous requests from students and friends searching for high level professional accordion arrangements inspired Gary Dahl to create arrangements with the following goals:
Creativity, good taste, harmonically/melodically correct.
Music with a sensible degree of difficulty, such that any additional difficulty would not improve the overall sound of the arrangement.
Guaranteed audience appeal and playing enjoyment.
Utilizing the orchestral capabilities of the accordion.
Music that will excite and challenge intermediate through professional.