| | | |
| --- | --- | --- |
| Name | Time | mp3 file size |
| Accentus | 26 sec | |
| Kin | 27 sec | |
| Aztarnak | 26 sec | |
| Damar | 29 sec | |
| Soinua | 43 sec | |
| IZPI | 56 sec | |
| Sobre La Noch | 44 sec | |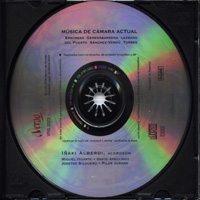 Publication of this CD causes me great satisfaction and, while not overlooking the prestigious performers and the excellent group of composers making it up, there is one protagonist who connects profoundly with me; I refer to the accordion, played by an exceptional musician: Iñaki Alberdi.

I remember how, half a century ago, I was initiated in music thanks to a small accordion I played as an amateur. For that reason, I use these lines to state my enthusiasm for the brilliant development of the accordion, crystallising in an instrument of astonishing technical and expressive resource, ideal for the music of our time. This is demonstrated by the invaluable contribution of outstanding Spanish composers from the "sixties generation" who, by their works, and with an exceptional performer like Iñaki Alberdi, have left us living testimony of the possibilities of such a marvellous instrument.

This CD contains a selection of works for solo accordion and other instruments, providing a demonstration of the versatility of a little-known instrument and rendering modest homage to all the composers whose contributions have helped develop the accordion repertoire.

---