Amy Jennings grew up in West Auckland, New Zealand, where music was a major part of her life. From a young age Amy was involved in the West Auckland Accordion Orchestra, and performed on many occasions as a soloist. Playing the accordion has been Amy's motivation to her compositions.

Amy studied music at Otago University, graduating with a BSc and Diploma for Graduates in music. Living on Stewart Island , attending the Nelson Composers workshops, and cycling through some of NZ most spectacular scenery has been an inspiration to Amy's compositions.

Amy has written music for a variety of instruments and has had pieces performed.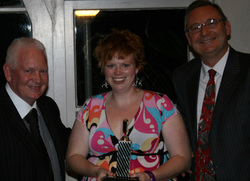 Amy was awarded the Cecil Smith Trophy from the NZ Accordion Association for all her compositions that were performed during the NZ Accordion Championships and Festival. Held in Auckland on Queens Birthday weekend.



Contact Details:
Email: amyjennings@xtra.co.nz