ABOUT JEFF LISENBY, jazz accordionist extraordinaire. Think "accordion" and "jazz" don't belong in the same sentence? Just wait, it gets better.

Lisenby, who holds a master's degree from The Conservatory of Music of the University of Missouri-Kansas City, is no stranger to musical oxymorons. His experience runs the gamut of styles.

He has twice been the national accordion champion and a bronze medalist in the Coupe Mondiale international classical accordion competitions. That may not sound like a big deal to us in the U.S., but in Europe, Russia, Scandinavia, China, and New Zealand, where the accordion is as common as the guitar, it's huge. But classical music wasn't the only style he practiced.

"When I was a kid," Lisenby said, "my goal was to win the world accordion championship, which was for 'serious' music. So I was practicing 7-8 hours a day when I was a teenager. I would get tired of practicing the 'heavy' music, and then I would start playing pop or jazz standard tunes and improvising on them. It was a good musical mix for me."

Lisenby used his genius on the accordion and keyboards to carve a niche market for himself, and gained performances with the Nashville, Kansas City, and Los Angeles Symphonies, the Palm Beach Pops Orchestra, and a gig accompanying Luciano Pavarotti during part of his U.S. tour.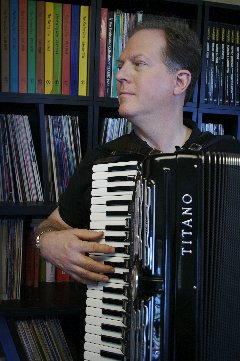 Certainly not limited to classical music, Lisenby toured extensively with the Mills Brothers, Boots Randolph, and Brenda Lee, and has accompanied Lee Greenwood, Donna Summer, Tricia Yearwood, Three-Dog Night, the Coasters, David Cassidy, Marty Stuart, Jo Dee Messina, Pam Tillis, Loretta Lynn, Roy Clark, and Dolly Parton, to name a few.

Most recently, Lisenby was honored to be the music director on Broadway for RING OF FIRE: The Music of Johnny Cash, for which he pulled from his extensive experience backing country artists in Nashville.

Lisenby is also one of the first-call accordionists for recording sessions in Nashville. Projects he has worked on include the Grammy-winning album: "Songs from the Neighborhood; the Music of Mister Rogers", and jingles for Budweiser and Sutherland's Lumber (which he also wrote and produced).

When he's not on the road performing around the country, Lisenby teaches for Belmont University's School of Music and is active in the Nashville recording scene.

Contact:


jefflisenby@gmail.com
---