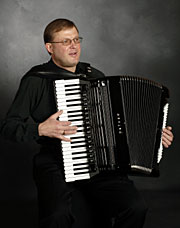 Ever since the Twenties, the name of Anthony Galla-Rini has been associated with accordion music of the highest class. His grammophone records and arrangements of both popular and serios music are among the best in the world. In the matter of arrangement, Galla-Rini has always strived to maintain teh essence of the original score - this without permitting any technical or musical compromise. As part of his endeavour to achieve perfection he uses for example a special bass register system giving a range of 4 octaves.

To begin at the begining - Anthony Galla-Rini was born in Manchester (USA) on January 18th, 1904, of Italian parents. His father, also a musician, began teaching him the cornet at the age of 4 and the accordion two years later. His debut as a musician took place in 1911 (together with his father and his two older sisters). Together they toured all over the United States and during this period Galla-Rini learned to play all the string and wind instruments, soon becoming an accomplished "musical all rounder". His mastery of so many instruments gave him an enormously wide knowledge of music and his feeling for style. This is seen very clearly in his brilliant renderings of famous classics (transcribed by himself). Galla-Rini's debut as a recording artists was in 1921 (Vocation Records) and in the years that followed he made many recordings for the leading grammophone companies. He has had enagagements as accordionist in Hollywood for many years of the Accordion Teachers' Guild and in 1938 he was one of the founders of the American Accordionists' Association (together with Pietro Frosini, Pietro Deiro and others). His career as a concert musician stretches over more than 70 years...

During a visit to Sweden in 1950 Galla-Rini made (among others) a recording of Cole Porter's "Begin the Beguine" in his own concert arrangement and one could say that the appearance of this record helped to make the production of this L.P-record possible. In brief, what happened was as follows: a young man by the name of Jorgen Sundeqvist from Kramfors, a keen accordion player, listened one day to the record of Galla-Rini with the result that he eventually travelled to America and became Galla-Rini's student for two years. Jorgen Sundeqvist, who was born in 1962, had already made a name for himself as a promising young accordionist here in Sweden, having studied under Hans-Erik Naas and at the Framnas Conservatory. During his two years in the United States Jorgen's talent underwent an incredible development so that he is now an international soloist of the first rank. Apart from the pure accordion-playing tuition he received, he also studied the theory of harmony, counterpoint and orchestration, all this under Galla-Rini's guidance. One can understand how pleased the Master was with his Swedish pupil when one as guest artists at the World Accordon Championships in Kansas City in 1981. They also gave concerts in Seattle and Canada. This concert tour was rounded off in Sweden and at the same time this L.P with duets of the highest international class played by two top artists. This is a record which all lovers of good accordion music simply MUST buy!