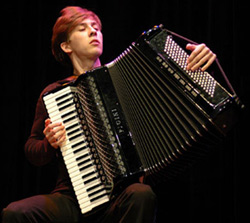 Alexander Shrirunov is known as : "Primo assoluto": virtuoso, gallant, musical, a genius.
"An entertainer par excellence and simultaneously a deeply moving virtuoso master of classical music." - "A Russian who is even more."

In this way, Alexander Shirunov is described full of fascination and admiration by competition rivals performing musicians, audiences, and jurors, who attempt to express that he is in every respect far more than somebody who can be characterized with conventional attributes or who can be measured with common knowledge regarding countries, people, musicians, and art.

Alexander Shirunov speaks impeccable English with Oxford accent. He is reminiscent in his overall appearance of the legendary Moscow virtuoso Yuri Kazakov, who for decades was the most exquisite and gallant virtuoso of Soviet show and entertainment business. As epitome of Soviet entertainment music artistry, Kazakov always appeared as a noble high-caliber musician. Kazakov, like Shirunov without their ever having met-are professed and passionate musicians in all areas of the beautiful art.

The 22-year-old accordionist was born in the city of Nikol'sk in the Vologda region in the northease part of European Russia. At the tender age of four, he began to play music when his father presented him with an accordion. When he was six years old and entered school-still quite small for his age-he began to play violin after his teacher recognized his exceptional musical talent, but deemed him too small for accordion. Therefore, during the next three years Alexander played violin in school adn accordion at home. Later, he had to study piano, singing, and saxophone before he finally could devote himself to the accordion, declaring it was the instrument he had loved from the beginning and the most important to him. At that time, he already had been awarded a number of first prizes and honors from regional and national music competitions in singing and accordion categories.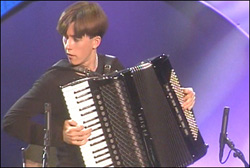 In 1997, the well-known bayan-accordion virtuoso and educator Alexander Dmitriyev from St. Petersburg discovered him during a visit to the city Elaburg in Tatarstan, where Shirunov was participating in a master course, which Profesor Dmitriyev was conducting there. Dmitriyev immediately invited Shirunov to come to St. Petersburg to study with him, which for the 14 year old Alexander was like a revelation from God. He proclaims: "To go to the world culture city St. Petersburg and study with the famous Professor Dmitriyev, the idol of many young musicians, was something special." One year later, in 1998, Alexander accepted the invitation and enrolled at the Special Music Vocational High School in the Rimsky Korsakov Conservatory for talented musicians. In 2002, he was automatically accepted into the Rimsky Korsakov Conservatory without further examination after proving to be one of the best students in the special school. He still studies in Professor Dmitriyev's classes today.

"Shirunov on Stage Is Like a Fish in Water"
Whe Shirunov is on stage, he says he feels like a fish in water. His performances of everything he presents are exceptionally lively. He experiences the music from the depths of his entire soul and knows how to project this maserfully to his audience. He sings, dances, plays, and moves like an artist with truly universal nature.


Shirunov gives virtuoso entertainment music the quality and noble appearance necessary for it to transform into another genre of musical art. He interprets this "light music" in a manner that has value. A value that high-caliber artists in the classical music area recognize and appreciate. Furthermore, Shirunov plays Baroque, classical, and avant-garde compositions as originals and arrangements so convicingly that professionals conclude he cannot be classified into one category. He is just a class for himself.

"The Musician Who Is Like an Entire Universe"
In his interpretations, borders between virtuovo entertainment and demanding classical music disappear. Tones are crystal clear and as elegant as pearls in the best champagne: tingling, nobly fresh, from deepest aesthetic soul. His music is comprehensive and all-embracing. It portrays a new genre. What's more, it lives up to the motto: "Music is life."

Alexander Shirunov's achievements in the second half of 2005 alone notable, especially when one considers that even his second place rankings in competitions could have been first prizes if diplomatic calculations had not played a role.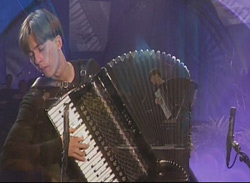 First prize at Premio Internazionale di Castelfidardo (Italy) in the category for solo virtuoso entertainment music.
Second prize at Premio Internazionale di Castelfidardo (Italy) in teh category for classical chamber music in duet with Nadezhda Guseva.
First prize at Premio Internazionale in Paaggianello (Italy), where he won the recognition "primo assoluto".
First prize at International Music Prize Citta di Lanciano (Italy)
First prize at Coupe Mondiale in Castelo Branco (Portugal) in the category for classical accordion.
Second prize at Coupe Mondiale in Castelo Branco (Portugal) in the category for virtuoso entertainment music.

In addition, there are his special performances at the large international entertainment festivals in Ikaalinen (Finland) and Pontarlier (France) in early 2005, where his musical presentations also reached peak levels. Of course, results at competitions for Shirunov are no evidence of musical quality. All too often he experiences, to his disappointment, that jury decisions are often determined by coincidence and luck. He has often delivered performances with which internationally experiences jurors are unable to cope.

Shirunov is in a class unto himself. He depicts, plays, demonstrates-maybe even without knowing it himself-a quite new dimension of demanding entertainment music, whereby for his musical expression actually a new suitable term should be coined.