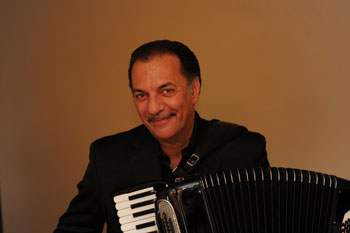 Manny Corallo, member of the "Amazing Accordion Kings" has released a new CD, "It's An Accordion Christmas". It is an amazing CD of big band, swing, and traditional orchestral arrangements with the accordion as the lead instrument.

I enjoyed listening to every song on the album. Manny Corallo brings a refreshing and exciting new sound to traditional, favorite Christmas selections including: "Winter Wonderland", "Feliz Navidad", "Christmas Time is Here", "Oh Holy Night", "Sleigh Ride", "O Little Town of Bethlehem", " Hark the Herald Angels Sing", "Let It Snow", "Have Yourself A Merry Little Christmas", "O Come All Ye Faithful", "Angels We Have Heard On High", "White Christmas", and "Ave Maria".

This festive CD, dedicated to his parents, was arranged and produced by Manny who played a Giulietti Supermodel accordion for the recording. Other musicians accompanying Manny on the CD are: Tony Drago (drums), David Finck (bass), Bob Mann (guitar), Richie Rodriguez (percussion), Ron Fox (trumpet), Rob Susman (trombone), Matt Cowan (saxophone), Belinda Whitney, Carol Pool, Cenovia Cummins (violins). Photos of Manny by Tanya Henigman.

Manny began his musical career early. At age 4 he began to play drums, and soon after that switched to accordion."My father played accordion, and I started taking lessons from my father's music teacher, Frank Toscano. It was a bonding thing for my father and I to play the same instrument. Sundays at my grandparents consisted of my father and I on accordion and my grandfather on mandolin and guitar. I remember how much fun that was when I was a kid."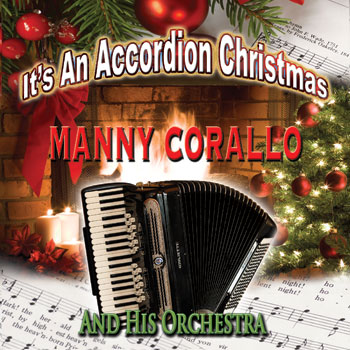 By age 13, Manny began piano lessons and continued to study with Frank. Frank provided Manny with proper classical training but he had a strong love for jazz and Manny developed the same love for it. "Frank is an incredible jazz accordionist and pianist, and a great friend too." he said. "He provided me with the solid musical foundation that I rely on today, and I always thank Frank for giving me that."Manny met another great musician, Angelo DiPippo. "Angelo is another incredible jazz accordionist and is an accomplished and well known arranger and conductor."

Inspired by Angelo's accomplishments and albums, Manny found out that he too had an interest in arranging and began his career arranging for tenor Peter Colombo, and accompanied him on his Catskill Mountain tours as his piano conductor. "It was a good place to start. Writing rhythm section and horn charts for Peter and conducting for him gave me the confidence I needed."

Manny also got his feet wet in the recording studio at this point, by arranging and recording 2 albums for Peter. Soon after the tours, Manny met record producer and engineer Gerry "Doc" Comito of Sonic Sound Recording Studio in Freeport, NY. "Gerry is another good friend of mine and we have worked on many recordings together. I have been hired as an arranger, pianist, and accordionist, by Sonic clients." Manny's next couple of projects enabled him to write for live strings - something he still loves to do to this day.

"I had a project where the client wanted a live string section. Still being a kid, I went home and sweated over every note. When I heard the strings on playback with a little reverb, I was hooked." This led to another project with live strings and brass "Venezuela Princess" written by Al Pantino. After that Manny combined his arranging and playing on an Italian album.


Writing for live instruments was something he definitely enjoyed. Not every project needed live instruments once synths and midi became common, but just being in the studio was good enough for Manny. He started teaching piano privately and formed his own dance band, 'Prime Time Live'. "We started out as a five piece band and eventually wound up as ten pieces with 4 horns. Having my own horn section enabled me to arrange for horns all the time." We performed in Atlantic City, opening up for acts such as comedians Sal Richards and Paula Poundstone. We also performed at the Brookhaven Amphitheater, as the opening act for the Count Basie orchestra."

Manny returned to CW Post College to get his Bachelors degree in Music Education, and continued his arranging projects. Manny had regarded himself as an arranger for so long that it never occurred to him to try to compose music. He got a chance to score a TV commercial then realizing he truly loves to score music. Manny soon after arranged a Gospel album at this time, for Wayne E.N. Ireland-Cleghorne entitled "God's Love" recorded at Sonic Sound.

"What a thrill for me, hearing the choir. To do something different, it was exciting to work on." Around this time, Manny worked on many different projects playing accordion on various ethnic albums. But the desire to score was growing within him. Manny had the opportunity to score "Mr. Men & Little Miss" a children's cartoon, and the producer was so happy with the job that Manny did, that the next project that came along was to be given to Manny was "Pokemon" leading to Pokemon's motion pictures and many more projects including the animated television series "Tama & Friends", "Kirby Right back at ya", "Fighting Foodons", "Shaman King", "Sonic X" and others.

Contact:
Manny Corallo: manny@mannycorallo.com