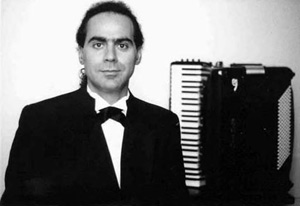 Francesco Palazzo (Martina Franca 1969) studied with Salvatore di Gesualdo. He graduated with honors in Accordion (the first in Italy) at the Conservatory "L. Cherubini "in Florence, completing his training through the humanities, Composition, Choral Music and Choral Conducting.

Special Mention "S. Gubaidulina "all '" Ibla Grand Prize "2001 and 2002 got the opportunity to perform in prestigious concert halls in the United States and Europe (New York - Lincoln Center, Alice Tully Hall, NY University, Amsterdam IIC)

It also played an important concerts in the main Italian cities and abroad (Holland, Germany, Albania, Congo) for important concert associations and music festivals.

He led a staff technical and expressive research, also based on comparison with other instruments, which prompted him to re-establish his playing technique on a new basis and to design and to build a concert instrument more responsive to the changing demands of art.

Since 1993 he has been teaching accordion at the Conservatory "N. Piccinni "in Bari, parallel to the concert and teacher, act as the auditor and composer with a number of publications of transcriptions, adaptations and his own compositions for accordion as well as an important work of didactic entitled" Fundamentals of Technical Accordion "for the Berben music publishing and for Physa Musical Editions.

He has recorded for Smile Ed Mus., Rugginenti and as a soloist for the Phoenix Audiosystem, a recital includes music by J. S. Bach, C. Franck, F. Lattuada, F. Alfano, L. Ferrari-Trecate, S. Calligaris, B. Bartolozzi and S. Gubaidulina and Digression Music. With the latter has published "Movimento Perpetuo", a new record on the original literature for accordion avant-garde of the last forty years of music by L. Andriessen, T. Hosokawa, T. I. Lundquist, F. Palazzo, S. Gubaidulina, G. Tailleferre, O.Schmidt, S. di Gesualdo, and "FOLKSONGS!", with Tiziana Portoghese, mezzo soprano.

In chamber music and orchestral have to report important collaborations with the "Tamborrino Ensemble", the "Xenia Ensemble", Fondazione Adkins Chiti-"Women in Music", the orchestra "Musica Judaica" and the "Collegium Musicum", with which performed, alongside the cellist Elizabeth Wilson, the opera "Sieben Worte" by the Russian composer Sofia Gubaidulina, for accordion, cello and string orchestra, the Orchestra of the concert Society of Bari, with which he performed for the first absolute in 2008 the "Concert for the people" for accordion and orchestra, dedicated to him by the composer Luigi pugliese Morley, the "Morley Mediterranean Quartet" Duo "with the mezzo-soprano Tiziana Portuguese Folksongs, the Duo" Palazzo Squillante, "with the mandolin player Mauro Squillante.

In 2005 he made his debut as a composer, winning the first prize to the Eighth Edition of the International Composition Competition "Franco Evangelisti", organized by the New Consonance, with "Perpetual Motion" - Studio Concert for accordion, published by Suvini dell'Edizioni Zerboni.

His performances and compositions have been broadcast by RadioTre, Vatican Radio, Classical Radio Network and other European broadcasters.

In May 2011 at the Teatro Petruzzelli in Bari has performed in world premiere, a concerto for solo accordion and orchestra, written for him by composer Vito Palumbo.

---

"Francesco Palazzo is a highly talent musician, gifted with wonderful expressive and technical qualities; hence an element that raises the accordion to unexpected artistic heights."
Aldo Ciccolini

"A pondered touch and strict tone-control…A highly reasoned Bach, with nob concessions to superficiality or any forcing…When played this way, the classical accordion becomes a truly noble instrument."
L'Arena

"A technically flawless execution and deeply emotional interpretation...With his accordion he cuts notes of pure crystal…"
Il Corriere di Roma

"The intensity of his interpretation and his technical masterly could not be further from the stereotype of accordion…It was almost a concert-lecture…"
Barisera

"Elegant and highly expressive, his performance is the result of a detailed study on the dynamic sound. His interpretation is simply marvellous."
Sergio Calligaris

"Those at mass were able to hear Francesco Palazzo's performance of Sofia Gubaidulina's accordion work, De Profundis. Mr. Palazzo brought out the inner intensity of the work, which though uncompromising in its harmonic language, communicated directly with a powerful dramatic integrity."
J.D. Hixson , founder and Artistic Director of STUDIO for New Music -NY


For contact:

Francesco Palazzo
Corso Mazzini, 28 ­ 70123 Bari - Italia
Mobile : 0039 3358150106
Tel & Fax : 0039 080/5216401
e-mail: info@francescopalazzo.it

CD REVIEW