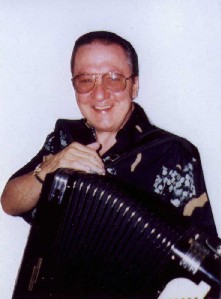 Peter Piccini was born in Sydney in 1936 and from the time of his birth, music has been his natural background. He made his first solo appearance as an accordionist at a school concert when he was only 7 years old. Although he showed promise on this occasion he did not begin studying seriously until he reached the age of 14.

Peter began earnestly to learn the secrets of the accordion from his father Peter Piccini Senior (known as the Daddy of the accordion) in Australia who was the first to introduce the piano keyboard on the accordion in Australia.

Peter jnr began at the age of 15 years broadcasting for the national and commercial radio stations and appeared in many stage performances and recording sessions on accordion and the piano. In 1955 he went to Europe and England broadcasting for the BBC. He appeared in television shows and performed at the famous Club Pigalle as accompanist for the French singer Line Renuld. While in Europe, Peter toured Italy with the famous Italian singer Claudio Villa, together they appeared on radio, television films, stage shows and recordings.

In 1963 Peter and his wife Fina launched on another tour overseas. During this tour he began playing the piano as well as the accordion. This led to engagements with leading orchestras and playing continuously throughout Europe.

Returning again to Australia in 1965 he then became musical director for Channel 9 Television Network and also broadcasting for the ABC in Australia. In 1968, he toured the Far East and Vietnam with an all Australian concert party entertaining the Australian and American forces.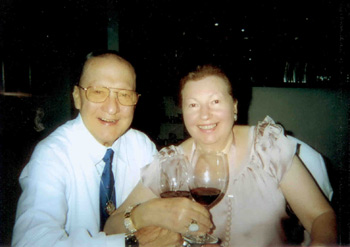 In 1972 he did another tour of Europe and visited the USA. Back in Australia in 1976 Peter became very busy broadcasting once again, recording with his large orchestra. Peter still finds time to compose music for the accordion. In 2002 Peter has been added to the AATA (Australian Accordion Teachers Association) Roll of Honour in appreciation of his contribution to the Accordion in Australia.

World-recognised accordion maestro and composer Peter Piccini, settled for many years in his home town of Perth, Western Australia, has recently made some rare appearances at a notable restaurant in the city suburbs.

Teaming up with Australia's top drummer Dennis Bird and his Trio, Peter has been presiding over a cool change for lunchtime patrons at Griff's of Bentley. Primarily focussing on jazz and blues, the group featured compositions by Peter, accompanying him alternating between accordion and piano.

Popular accordion composer Peter Piccini and Sarah (Fina) Piccini enjoyed their 50th Wedding Anniversary on the 22nd April in Western Australia. The photo above just arrived at our office. Peter Piccini has some 84 accordion compositions available online as well as 5 accordion CD's.

Additionally, Peter aired some his own work in swing as well as musette and acknowledging the current rage, his tangos were greatly enjoyed by appreciative diners. Peter's outings are rare indeed, so all the more to be valued.

Sadly Peter Piccini passed away on the 11th October 2011 in Perth and is survived by his wife Sarah. A full obituary was published at: http://www.accordions.com/news.aspx?d=14-Oct-2011&lang=en#art4857

He is sadly missed.

Contact:
peter.piccini@bigpond.com