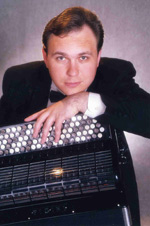 Vitali Dmitriev was born in Saint-Petersburg in 1977. His musical talent was evident very early, he started playing the accordion at the age of 5. Two months later he gave his first concert. Then he entered the School of Music and in 1984 he took part at the youth competition of folk-instruments players at which he was placed first. Two years later, Vitali once again won the same competition and it was his first national success. In 1999 V. Dmitriev graduated from the State St.-Petersburg Rimsky-Korsakov Conservatory of Music.

Vitali has been awarded first prizes at the most important international competitions:
- 1989 - Bulgaria (Chirpan)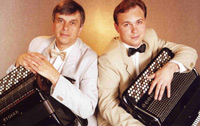 - 1989 - France (Mutzig)
- 1993 - Italy (Castelfidardo)
- 1994 - Germany (Klingental)
- 1995 - Italy (Castelfidardo)
- 1995 - Sweden (Avesta) Coupe Mondiale)
- 1999 - France (Marcielle)

He participated in various concerts and festivals in Germany, USA, Czech Republic, Slovakia, Finland, Austria, Poland, Estonia, France and Russia. He appeared many times in various TV and radio broadcasts and recorded his first LP in 1991.
V. Dmitriev has been awarded Creative Culture Union's grant.
---
Order by credit card in Euro or US$, using our secure server bank system
Euro Order US$ Order