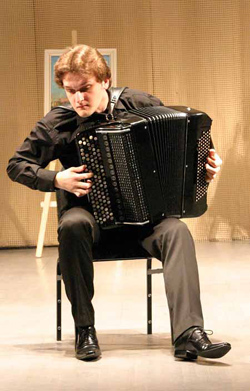 Medianik is a vice-president of "Accordionist's alliance of Russia" (since March 2007). He is an art-director and author of idea of the "Pluri_Art" International Festival of Arts and director of "Emotion-orchestra". Since 2003 he has been an honorary member of Kaunas Conservatoire, Lithuania.

Yuri Medianik was born in 1983 in the Ukraine to a family of musicians. He took up bayan playing when he was only 2 years of age and made acquaintance with his second instrument, the violin, at the age of eight. He further studied in the Secondary Special Music School n. a. Rimskiy-Korsakov in Saint Petersburg. Yuri graduated from the Special Music Gnessin School in Moscow in 2000 (both violin and bayan) and Moscow State Conservatory named after Tchaikovsky . Yuri is currently a post-graduate of the Moscow Conservatoire. He also took classes from Pierre Amoyale, Boris Belkin, Marine Yashvili and Yuri Shishkin.

Medianik is a laureate of several music competitions, namely: Demidovsky International Violin Competition (Grand Prix, Ekaterinburg, Russia, 2003), First All-Russia Bayan Competition YUGORIA (1st Prize, Surgut, Russia, 2001), III International Competition of Bayanists and Accordionists (1st Prize, Moscow, Russia, 2000), International Bayan Competition 'Days of Music in Vogtland' (1st Prize, Klingenthal, Germany, 1997). Yuri holds scholarships from the Yamaha Music Foundation of Europe, International Holland Music Sessions (Netherlands), Aram Khachaturian Foundation (Armenia) and the New Names Foundation (Russia).

Medianik is a regular partner to the Symphony Orchestra of the Ministry of Culture of Bashkortostan (Ufa), Symphony Orchestra of the Ministry of Culture of Udmurtia (Izhevsk), Classica Chamber Orchestra (Chelyabinsk), Gnessin Virtuosi (Moscow), B.A.C.H Chamber orchestra (Ekaterinburg), Orchestra of Russia Folk Instruments n.a. Osipov, Orchestra of Donetsk conservatoire (Ukraine), Urals State Folk Orchestra (Ekaterinburg) and other. Yuri has been into joint projects with conductors Timur Mynbaev, Enche Baartazhavyn, Nickolay Rogotnev, Sergey Skripka and others.

Yuri Medianik is also a soloist of the Piazzolla Quintet and a participant of the Symphorine duet with violinist Jehanne Strepenne. His partners in chamber concerts include such musicians as Boris Andrianov, Ekaterina Apekisheva, Hayk Kazazyan, Vladimir Tonkha, Dmitry Kaprin and Ivan Rudin. The geography of Yuri's concert tours: Great and Chamber halls of the Moscow Tchaikovsky conservatoire, Concert Hall of Boston University (USA), Concert Hall of Oxford University (England), Maison de la Culture d'Arlon (Belgium), Hall of the State Capella (St. Petersburg), Chamber Hall of the Moscow House of Music, Sverdlovsk Great Philharmonic Hall, Opera Theatre of Izhevsk (Udmurtia), Organ Hall (Yerevan, Armenia) and Petrozavodsk Opera Theatre (Karelia, Russia).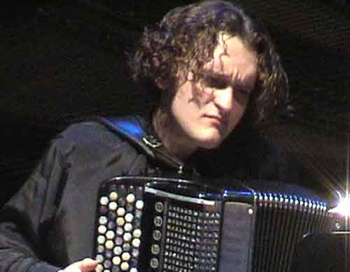 Yuri's interest in contemporary music evolved into fruitful partnerships with the Studio For New Music and Moscow Contemporary Music Ensemble , and into performance of compositions by Norwegian, North American, Russian and French composers in solo concerts. In 2007-2008 Medianik is planning a joint project with StRes, a creative group of Russian composers.

Medianik repertoire embraces anything from Renaissance to contemporary music and includes about 50 pieces for bayan (including those originally written for other instruments, which Yuri transcribed for bayan) and 30 compositions for violin (solo and with piano or orchestra).

Mediank's first CD with a recording of Mozart's Concerto No 4 was released in 1997 (Studiogruppe des JSO der Bochum / G. Van den Bosch). His other recordings are The Images of Three Centuries (ArtClassics, 2004), Selected Bayan Solos (State Radio, Studio No 1), Recollections of Piazzolla (Gnessin Virtuosi chamber orchestra / M. Khokhlov, Piazzolla Quintet (ArtClassics, 2006) and Bach Sonatas..

Contact:
E-mail: art@pluriart.com


---