Sofia Gubaidulina is an important contemporary composer in Russia. She composed numerous works for symphony orchestras, chamber- and vocal music. In the 80's her work achieved international recognition and fame.
The works she composed for the bajan include "De profundis" (1978), Partita for bajan, violoncello and strings, "Seven Words" (1982), "Et exspecto" - sonata in 5 movements (1986) and "Silenzio" for bajan, violin and violoncelo (1992). Fachwerk by Sofia Gubaidulina composed in 2009 for accordion with percussion and string orchestra. 33.44 mins. These were all recorded by Friedrich Lips.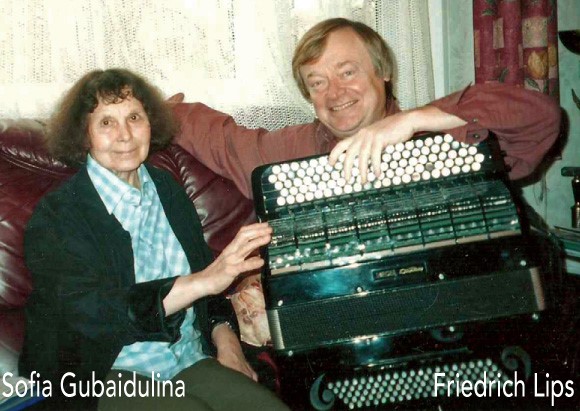 "De profundis" (an 11 minute work) was inspired by the well known religious psalm "From the depths of my despair I call to you, Lord". Not only in each episode but in the entire work one can follow - from the beginning to the end - the yearning of the musical score.
In De profundis a slow chorale makes repeated – eventually successful – attempts to rise from troubled darkness to bright light.
As it often occurs in the work of Gubaidulina, the clean-cut chorale is contrasted by full-sounding cluster-harmonies. From the artistic point of view, this piece became a major event, not only in bajan-music.
Sofia Gubaidulina took great trouble to study the accordion with the Russian player Friedrich Lips' and she exploits its resources to the full.