'An A to Z of the Accordion, Volume 4' is the latest in this popular series of books about the accordion and accordionists, presenting yet more accordion related articles and biographies. Some of the entries are extensions of topics and biographies featured in the three previous volumes, adding further information, and from fresh angles. Once again, there are some specially written articles, plus some evergreen archive magazine articles written by such eminent authorities as Gerald Crossman, Conway Graves and Douglas Ward. Below is an itemised list of the conents:

Articles: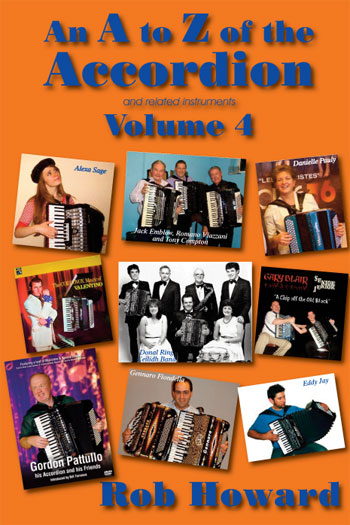 Accordion – an introduction to the accordion, in its various types…
Accordion - a few playing tips:an assortment of hints for those new to the joys of learning the accordion…
Accordion – in Retrospect: a look back in time to 1829, and how the concertina and accordion's popularity have waxed and waned over the years in Great Britain…
Accordion Manufacturing Process – how an accordion is made…
Accordion Museum - Caroline Hunt writes about her recently founded accordion museum in the Scottish Highlands
Accordion Music – book and sheet music retailers
The accordion with other instruments - an article written by Ingrid Gould
All Scotland Accordion Champions - a list of the Senior Scottish champions…
Beltona Records - the first major British recording company to record accordionists
Castletown Accordion Orchestra – European accordion orchestra champions, 1986
Chartres Accordion Festival – leading French accordion festival, founded in 1988
Complete Works of Guido Deiro – a brilliant compliation by Henry Doktorski
Concertina – Compilation Recordings – two 3 CD compilations, for English and Ango concertina, each set featuring archive and modern recordings by the best players
Crawley Accordion Orchestra – story of the Sussex-based orchestra
Don Destefano Remembered – an article by Tony Compton
Devon Accordion Project – an innovative scheme, by Leslie Thompson, aimed at "introducing beginners to the delights of playing accordion"
Diatonic Musings – teacher George Garside discusses the 'push/pull'button instruments
Double Acts – notable double acts involving accordionists, such as Foster & Allen, The Alexander Brothers, Aly Bain & Phil Cunningham, Bon Accords, Sultans of Squeeze…
Drama: 'The Accidental Death of an Accordionist' – a play featuring accordion music
Early Learning Ceilidh Band – a scheme for teaching traditional music to youngsters, led by All Scotland Champion Alan Small
Famous People Who Also Played the Accordion – yet more well known names
Gallowglass Ceili Band – Ireland's most commercially successful ceili band
International Stars of the Accordion - Gary Blair discusses a few famous names, including Alexander Dmitriev, Peter Soave, Friedrich Lips, Lars Ek…and more
The Irish Rovers – internationally known Canadian-based Irish folk band, featuring Wilcil McDowell on accordion
Irish Traditional Playing - Frances O'Rourke, an Irish dance accordionist, discusses her experiences of learning and playing Irish music…
Italian Connection - This article looks at the massive contribution made over the years to the accordion in this country by Italian immigrants…
The Jazz Accordionists – a look at how the jazz accordion scene has evolved in Grseat Britain since the 1920s…
Jazz Accordion Tutor Book – a unique tutor book, written by American jazz accordionist Ralph Stricker
Jim Mackay's Dance Band – featuring three generations of accordionists, this dance band was formed in 1957, and is still going strong!
'La Vie En Rose' – film biography of Edith Piaf, and featuring much accordion music
mally.com – Yorkshire's Dave Mallinson: melodeon player, writer and publisher
Memorising - Conway Graves discusses the topic of memorising music
Morris On – a look at the classic series of recordings of Morris dance music
The Occasionals – top Scottish dance band, led by accordionist Freeland Barbour
Paris Musette – a look at musette music since the 1890s…
Playing From Piano Music - an article written by Gerald Crossman
The Puppini Sisters – a trio specialising in 1940s close harmony singing, featuring Marcella Puppini on accordion and piano
Quotations – a few quotes from accordionists and other musicians
CD/DVD/Book Reviews – a selection of previously published reviews of recommended Cds, DVDs and books, written by the author and by Henry Doktorski
Getting to grips with the Roland FR7 – the author's experience to date…
The Scales in the Balance – an essay extolling the virtues of practising scales, by accordion teacher Kenneth Hacking
The Serious Performer – an article by leading accordionist Douglas Ward
Jimmy Shand Centenary DVD – at long last, a DVD telling the story of the iconic and insirational Sir Jimmy Shand
Shand Morino – Roy Magna tells the story of this iconic button accordion…
Swansea Accordion Orchestra – the story of this orchestra, founded in 1982
Tales & Trivia – some short, true stories…
The Tiger Lillies – punk/rock trio from London, featuring Martin Jacques on accordion
Tips for Practising and Playing Solos – by Gerald Crossman
UK Championships - Playing at Scarborough, by Ann Parker – an engaging and humorous personal view of competing at the national championships
Updates – a few updates of information given in the earlier volumes
Xmas – a few suggestions, for Christmas presents…
YouTube - video sharing worldwide Internet facility
ZZ Music - Double Zed Music – a company set up by Romano Viazzani covering a variety of accordion-related activities

Biographies and Autobiographies:

Marcel Azzola – leading French jazz and musette accordionist
Brian Bayliss – 1970 All Britain Advanced Champion, now on a playing comeback
Elaine Beecham – renowned accordion teacher and MD of the highly successful Colchester Accordion Band and Showband
Ivan Black – highly qualified accordion festival adjudicator and multi instrumentalist, from Northern Ireland
Nigel Black – up and coming accordionist from Northern Ireland
Buckwheat Zydeco – top accordionist/vocalist/bandleader, from Louisiana, USA
Raymond Chuchuk – solo dance/cabaret accordionist/vocalist, from Scotland
James Coutts – top Scottish accordionist and festival administrator
The Currie Brothers – hugely talented and entertaining trio from Scotland
Leslie Craig – one of Northern Ireland's finest accordionists and composers
D'Ambrosio Family – Birmingham-based accordion dynasty, of Italian extraction
D'Arcy Family – family variety act, led by unicyling accordionist Eric Dabrowski
Don Destefano – renowned accordionist, teacher and businessman of the 1930s and post-war years
Rico Destefano – highly regarded button accordionist, active in the pre/post-war years
Blair Douglas – present day highly regarded accordionist and composer, from Scotland
Emilio – best remembered as accordionist with the Mantovani Orchestra
Neil Fodden – Geordie accordionist, now editor of the magazine Accordion World
Richard Galliano – French accordionist par excellence
Herbert Greene – virtuoso concertina player, active from the 1920s to the 1960s
Mairearad Green – up and coming Scottish accordionist and composer
Adrienne Griffiths – accordionist and teacher, from Southampton, and a successful competitor at NAO festivals from the early 1960s until the present time
Derek Hamilton – Scottish musician and Bryan's Room recording engineer, responsible for recording many accordion CDs, including the latest by Gary Blair Senior and Junior
Thom Hardaker- teenage accordion star, now studying in Russia with Oleg Sharov
Ron Hodgson – veteran Carlisle accordionist and Ronmar MD tells his own story…
Eddy Jay – up and coming versatile pro accordionist, often works as a duo with harmonica player Will Pound
Flaco Jimenez – legendary Tex-Mex accordionist/vocalist, from Texas
Ronnie Kennedy – Irish solo accordionist, probably best known as Musical Director for the singer Daniel O'Donnell
Mark Kenneth – Scottish accordionist now based in Texas
Shona Kipling – up and coming accordionist, working mainly on the folk scene
Maurice Larcange – legendary French musette accordionist, well known in this country through his many excellent LPs/CDs
Leslie Law – well known accordion teacher and administrator in the post-war years
Roger Letley – experienced accordion teacher/player, from Kent
Bob Liddle – talented accordionist/composer, from the Scottish borders
André Loppe – Belgium's musette accordionist par excellence
Father Kenneth Loveless – outstanding Morris dance Anglo concertina player
Rafal Luc – accordion student at the Royal Academy of Music, from Poland
Roy Magna – Shand Morino 'addict'tells his own story…
Susan MacFadyen – Scottish accordionist; winner of All Scotland and NAAFC titles
Chris McGrory – leading Irish dancing competition accordionist
Norman MacKay – 3-row button accordionist, and an All Scotland Champion
Brandon McPhee - 3-row button accordionist; an outstanding talent who recorded his first CD only one year after taking up the instrument, aged 13
Daniel McPhee - 3-row button accordionist and singer/guitarist, from Caithness
Margaret Mitchell – pianist/accompanist from Huddersfield who took up the accordion, and has gone on to compose music for accordion
Owen Murray – Professor of Accordion at the Royal Academy of Music, London
Kenny Nairn – Scottish accordion entertainer and television/film extra
Roger Nightingale – accordion enthusiast/player, British-born, now living in New Zealand
Dermot O'Brien – A tribute article to one of the world's greatest accordion entertainers
Máirtín O'Connor – Ireland's outstanding 2-row accordionist/composer
Yehuda Oppenheimer – Israel's leading accordionist and composer
Mike O'Regan – Nottingham accordionist/teacher, currently a leading 'guru' for the Roland Virtual Accordion
Brendan Power – top harmonica player from New Zealand, now living in the UK
Bill Powrie – under-rated 3-row button accordionist, brother of better known fiddle player Ian Powrie and son of pre-war melodeon star Will Powrie
Sean Quinn – Northern Ireland leading accordionist, recording engineer and author
Billy Reid – influential player/MD/song writer from the pre/post-war years
Donal Ring – legendary 3-row button accordionist, whose ceilidh band celebrated 50 years as professionals in 2008
Ricky T Sargent – accordion playing nephew of the great comedian Max Miller, and a colourful entertainer in his own right
Paul Scourfield – up and coming melodeon player/folk singer
Peter Selby – versatile accordion entertainer
Pete Shutler – accordionist with The Yetties
Howard Skempton – avant garde composer, accordionist and pianist
Barry Smith – Bavarian-style accordionist/bandleader, from Birmingham
Will Starr – A tribute to one of the most influential and revered Scottish accordionists of the 20th Century…
T.W. Thurban – prolific composer/arranger, very active in the 1930s
Emile Vacher – legendary French accordionist/composer. The man who created the French musette genre!
Valentino – The accordion world's most colourful yet enigmatic performer!
Mika Väyrynen – top present day accordionist and bandoneon player from Finland
Romano Viazzani – the career to date of one of Britain's rising accordion stars…
Douglas Ward – very well travelled professional accordionist/composer
John Whelan – Luton-born Irish-style 2-row button player, now based in the USA
John Williams – Chicago-born Irish style 2-row button/Anglo concertina player/teacher/compose; works include teaching DVDs for accordion and concertina.