mews82 Suite Aotea:

Selected as the Test Piece for the 1980 Coupe Mondiale World Accordion Championships by the Confédération Internationale des Accordéonistes (CIA) . Commissioned by the New Zealand Accordion Association.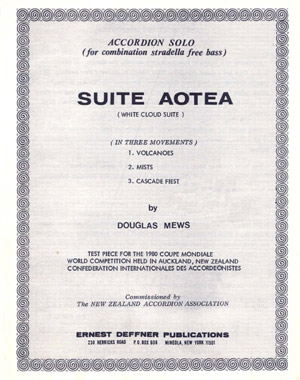 According to a legend of New Zealand's natives, the Maoris, an adventurer named Kupe led a canoe expedition from Hawaii to discover New Zealand. When Kupe's wife sighted land from their canoe, she cried out "He Ao, He Ao," which meant "a cloud, a cloud." Aotea, the word for white cloud was the name they gave to the island off the coast near Auckland where the explorers first landed.

They called the mainland "Aotearoa" to signify the land of the long white cloud. Thus "Aotearoa" was the name by which New Zealand was originally known.

The Suite Aotea or White Cloud Suite is a work in three movements, each of which represents a phenomenon which is typical to New Zealand: volcanoes, mists and cascades.

Volcanoes are frequently found in the terrain surrounding Auckland and inactive ones were used as Maori fortresses. Mists are commonly encountered in the region of Waikato during winter and in the geothermal Taupo area where steam rises from the ground.

Cascades allude to the spectacular waterfalls of the South Island. This last movement of the work includes a lovely quotation from the theme of Pokarekare, a well-known Maori love song.