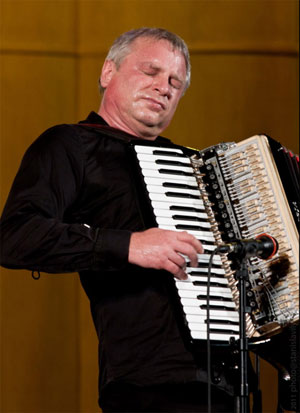 Klaus Paier, austrian accordionist and composer, studied accordion, jazz and composition at Klagenfurt conservatory. Paier has been particularly inspired by such instrumentalists as Keith Jarrett, Bill Evans, Charles Mingus or Thelonious Monk. For him, their conception of jazz, with its wide diversity of musical possibilities and freedoms, was of inestimable importance. In addition to the historically evolved European harmonies involving the accordion, the classical component has also assumed an unmistakable position in Paier's compositions.

Statements
Klaus Paier is one of the great European accordionists enjoying a worldwide reputation. He is a magician of sound, full of exuberant musical creativity and energy. When he plays, he is far away in a world of music that is every bit as hauntingly beautiful as it can be calamitously shaking.

Awards
Klaus Paier will be the first Austrian artist to receive the "Silver Disc Award" in 2011 in Moscow. It's an award concernig accordionists and their extraordinary achievements on the instrument.For the CDs "Movimiento" and "Live", Klaus Paier was nominated for the Austrian music prize, the "Amadeus Award".1994, 1995, 1996 "Premio Internazionale di Castelfidardo"

International tours
Austria, Germany, Switzerland, Liechtenstein, France, Spain, Portugal, Italy, Netherland, Belgium, Luxembourg, Poland, Czechia, Slovakia, Lithuania, Slovenia, Croatia, Bosnia and Herzegovina, Hungary, Romania, Moldova, Denmark, Sweden, Russia, Egypt, USA, Canada, Algeria, Vietnam, Israel

Projects
Klaus Paier Solo, Klaus Paier & Asja Valcic, Klaus Paier Trio, Klaus Paier & radio.string.quartet.vienna, Klaus Paier & Gerald Preinfalk.

Porträt: Akkordeonmagazin 2008
download>>


Contact:


---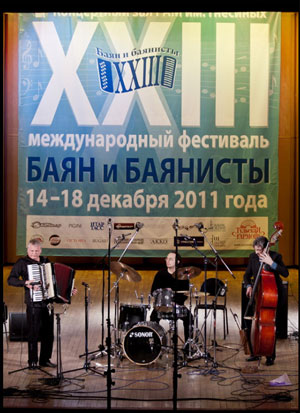 Klaus Paier, österreichischer Akkordeonist und Komponist, studierte am Konservatorium in Klagenfurt Akkordeon, Jazz und Komposition. Speziell Instrumentalisten wie Keith Jarrett, Bill Evans, Charles Mingus oder Thelonious Monk haben Paier inspiriert. Deren Auffassung von Jazz, mit seinen vielfältigen musikalischen Möglichkeiten und Freiheiten, war für ihn von unschätzbarer Bedeutung. Neben den historisch gewachsenen europäischen Klangmöglichkeiten des Akkordeons hat auch die klassische Komponente in Paiers kompositorischer Arbeit einen unüberhörbaren Platz eingenommen.
Statements
"Klaus Paier gehört zu den großen europäischen Akkordeonisten von Weltruf. Er ist ein Klangzauberer, der voll überbordender musikalischer Kreativität und Energie steckt. Wenn er spielt, ist er weit weg, in einer Welt der Musik, die so betörend-schön wie auch unheilvoll-bebend sein kann"...."Es ist neben seiner unbestrittenen instrumentalen Fähigkeiten vor allem die ausgeprägte Offenheit Neuem gegenüber, welche Klaus Paier zu einen der bedeutendsten Musiker des Landes haben werden lassen. Egal ob nun als Solokünstler oder als Mitglied in einer Formation, der gebürtige Kärntner präsentiert sich als ein Künstler, der seiner Zeit oftmals einen Schritt voraus ist. Mit der Fähigkeit, seine eigene Musik immer wieder auf eine neue Ebene zu heben, darf angenommen werden, dass man von diesem außergewöhnlichen Akkordeonisten auch in Zukunft noch einiges zu hören bekommen wird". Portät musicaustria, mt, December 2011
Auszeichnungen
Als erster österreichischer Akkordeonist erhält Klaus Paier 2011 in Moskau den "Silver Disc Preis" - eine Auszeichnung für Akkordeonisten und ihre aussergewöhnlichen Leistungen für das Instrument.Für die CDs "Movimiento" und "Live" wurde Klaus Paier für den österreichischen Musikpreis, den "Amadeus Award", nominiert.1994, 1995, 1996 "Premio Internazionale di Castelfidardo"
Internationale Tourneen
Österreich, Deutschland, Schweiz, Liechtenstein, Frankreich, Spanien, Portugal, Italien, Niederlande, Belgien, Luxemburg, Polen, Tschechien, Slowakei, Litauen, Slowenien, Kroatien, Bosnien und Herzegowina, Ungarn, Rumänien, Moldawien, Dänemark, Schweden, Russland, Ägypten, USA, Kanada, Algerien, Vietnam, Israel
Projekte
Klaus Paier Solo, Klaus Paier & Asja Valcic, Klaus Paier Trio, Klaus Paier & radio.string.quartet.vienna, Klaus Paier & Gerald Preinfalk
Porträt: Akkordeonmagazin 2008