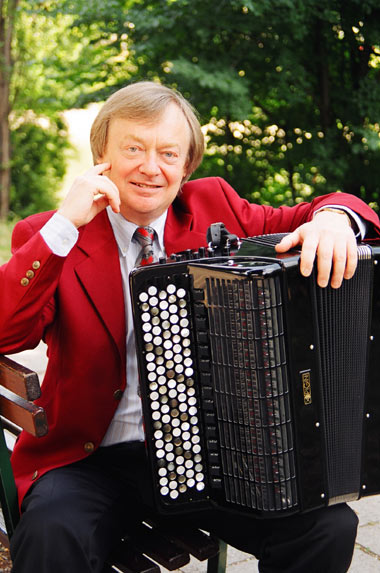 Friedrich Lips (born November 18, 1948, in the city of Yemanzhelinsk near Chelyabinsk in eastern Ural) was the son of Russian parents of German descent. After completing his education at the Glinka Music School in Magnitogorsk in 1967, he moved to Moscow, where he studied at the Gnesin institute for Music Education as master student under Sergey Kolobkov.
Even before taking his exams in 1972, he started teaching there in 1971 and became assistant in 1974. He was named assistant professor in 1982 and full professor in1989. Lips received world recognition in 1969 when he won first prize for brilliant performances at the Internationale Musiktage in Klingenthal (GDR).
In 1970, the state concert agent Moskontsert started him on his highly successful career as concert musician. Engagements took him to dozens of countries on all continents and, continuing to the present time, have made him the famous bayanist in the world.
Performing in the world's leading concert halls (including Concertgebouw in Amsterdam; Kennedy Center in Washington, D.C.; and Santori Hall in Tokyo), at the most important music festivals (such as Boston, Huddersfield, Schleswig Holstein and Turin) ,and working with the most outstanding soloists (among others Gidon Kremer, Yo-Yo Ma, Mark Pekarsky, and Vladimir Tonkha) and chamber musicians as well as prominent orchestras, he has exerted considerable influence on the music scene extending well beyond the bayan-accordion.
As professor at the Gnesin Institute in Moscow, Lips has for decades had impressive success as an educator, where his instrumental classes enjoy highest recognition. As guest professor, he teaches at countless music institutions and academies at home and abroad. Among his student are dozens of first-prize winners in all age groupings at the most important international competitions.
Lips has also made a name for himself as arranger and editor of numerous classical compostions for bayan-accordion as well as an expert author of articles and publications on music theory and history. While the Soviet Union was still existing, many recordings made for radio and records reflect Lips' exceptional creativity; since the political turn of events, he has in the meantime produced over two dozen CDs. Today these performance are regarded as exemplary for bayan–accordion students.
Engaged in propagating artistic, demanding bayanistic, he has been active as an international speaker at seminars, workshops and master courses as well as a juror at major competitions. He is furthermore, founder and artistic director of the annual Moscow Bayan Festival, initiator of international symposia, and either mentor or adviser to international associations.
In his continual efforts to foster new literature for the bayan-accordion, Lips is constantly in contact with outstanding composers (Sergey Berinsky, Aleksandr Kholminov, Yevgeny Derbenko, Edison Denisov ,Sofiya Gubaydulina, Vladimir Podgorny, Alfred Schnittke, Vladislav Zolotaryov, and Kirill Volkov) and has inspired them to created new pieces, thus paving the way for numerous compositions, many of which in the meantime have already achieved historical value.
Biography For 70th Birthday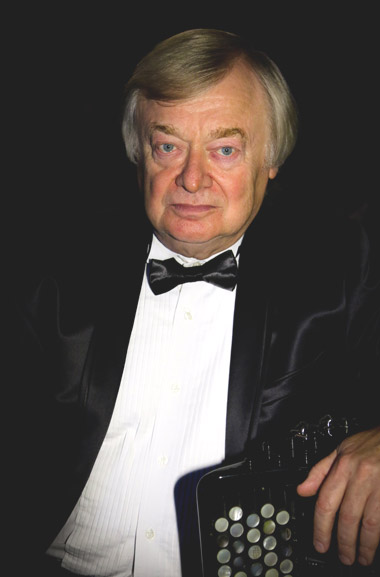 Friedrich Lips is not only one of the most well-known and most renowned musicians of Russia, but he received also broad international recognition. The versatile creative activity of Friedrich Lips, People's Artist of Russia and professor at the Russian Gnessin Music Academy determines also the recent development of the academic bayan essentially.
F. Lips appeared in the most famous concert halls of the world (Big Hall of the Tschaikovsky conservatory - Moscow, Santory Hall - Tokyo, Lincoln center - New York, J. F. Kennedy center - Washington, Concertgebouw – Amsterdam, Barbican Hall in London) with many outstanding musicians: among others G. Roshdestvensky, V. Spivakov, G. Kremer, Y. Bashmet, V. Gergiev, W. Yurovsky, Yo-Yo Ma. Lips'art of interpretation is documented on many CDs (about 40) released in Russia, Japan, the USA, Austria and Sweden. Among the graduates of the class of Professor Lips are about 60 winners of national and international competitions.
Lips is an author of three books "The Art of Bayan Playing", "The Art of Arranging Classical Music for Accordion" and "It seems like yesterday", as well as a set of articles on the art of the bayan. The books and articles are published in Russia and abroad in their translation in German, English and other languages. Lips is initiator, author and publisher of some volumes of the concert repertoire for bayanists, among others the unique "Anthology for Bayan" in 10 volumes.
Lips did the first performance of more than 80 works for bayan, among others concerts and sonatas of the most important contemporary composers such as S. Gubaidulina, E. Denissov, A. Kholminov, Vl. Solotaryov, K. Volkov, P. Londonov, S. Berinsky, E. Podgaiz, M. Bronner, T. Sergeyeva, A. Zhurbin, and many others. Lips is member and president of jury of many Russian and international competitions. On his initiative and under his artistic direction the international festival "Bayan and Bayanists" has been held in Moscow annually since 1989, the best Russian and foreign soloists are taking part. Since 1996 F.Lips has been holding the chair for folk instruments at the Russian Gnesin Music Academy (since 2004 chair for bayan and accordion).
In 1993 he was awarded the "Silver Disc" of the festival "Bayan and Bayanists". In 1994 president B.N. Yeltsin presented the distinction of a "People's Artist of Russia" to Friedrich Lips in the Kremlin, and in 2001, due to a degree by president V.V. Putin "the order of friendship" was given to him. In 2001 he was named "Musician of the Year" by the newspaper "Musical Review". In 2005, the city of Emanzelinsk gave the name of its first graduate, Friedrich Lips, to the Children's Art School No.1.
In the occasion of the twentieth anniversary of the Moscow Autumn Festival, he was awarded the "Gold Medal of Moscow" in 2008, the Diploma "Golden Talent of Russia" by the Russian Performing Art Foundation in 2009. In 2010 he was elected honorary professor of the London Royal Academy of Music, in 2011 he became laureat of the "Prize of the City of Moscow".