eTrack Music by New Zealand's North Shore Accordion Orchestra 3rd International Concert Tour- 1984 Album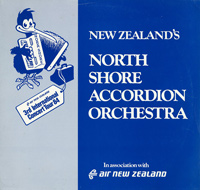 Catalog: nsao1984











The North Shore Accordion Orchestra 3rd International Concert Tour - 1984 Album

1984 Album Cover text:

SIDE ONE
1. "La Scala di Seta" (Rossini) arr . Balestrieri
2. "Flash Dance" (Moroder) arr. Lisenby
3. "lnvercargill" (Lithgow) Soloist Tom Collins
4. "Habanera" from Carmen (Bizet) arr . Schaw
5 . "Italian Concerto" 3rd movement (Bach) Soloist Marie Efford

SIDE TWO
1. "Marriage of Figaro" (Mozart) arr. Gaviani
2. "International Medley" arr. Daveme
3. "Accordion Boogey" arr. Magnante Soloist Harley Jones

PERFORMERS

CONDUCTOR: Fay-ellen Schaw,
DIRECTORS: Fay-ellen Schaw, Heather Masefield, Harley Jones
MEMBERS: Adrian Januszkiewicz (lead), Jacqui Bland, Alison Blunden, Robert Blunden, Kim Chatfield, Sue Clough
(vocal) , Tracy Dyson, Brett Gibson, Stephanie Grey, Stephen Gutmann, Kelly McKenzie, Ian Masefield, Jenny O'Brien, Anthony Olliff, Helen Robinson, Oliver Specht, Kirsten Thompson, Fergus Waddell, Sue Warner (drums).

SOLOISTS: Tom Collins, Marie Efford, Harley Jones

The North Shore Accordion Orchestra has won acclaim throughout New Zealand, the USA and Europe for its outstanding performances. Five times winners at the coveted New Zealand Accordion Orchestra Championships, 1977, '78, '80, '83, and '84, the group departs on its 3rd International Concert Tour in August. As in the past the tour has been financed by the orchestra's musical and fundraising activities and the orchestra gratefully acknowledges the assistance it has received from Air New Zealand.

Formed in 1976, the North Shore Accordion Orchestra has toured overseas extensively. In 1979 the orchestra made a three week tour of the USA performing in Los Angeles, Miami , Massachusetts, Kansas City, St Louis and Salt Lake City. This tour was a tremendous success and a standing ovation was received at every concert. On its return to New Zealand a record was released titled "Concert USA".

The orchestra were among the major supporters of the 1980 Coupe Mondiale World Accordion Championships, held in New Zealand, and were the featured orchestra at the opening concert attended by the New Zealand Prime Minister, Mr Muldoon.

The 2nd International Tour was in 1981. Countries toured were Holland, Germany, Austria , Italy, Switzerland, France, England and Singapore. A highlight of the tour was an invitation concert for the prestigious Vienna Music Festival .

On the 3rd International Tour the orchestra will visit the USA and Canada, performing in Hawaii, Los Angeles , Vancouver, Prince George, Jasper, Banff, Calgary, Missoula, Coeur d'Alene, Spokane and Seattle.

This recording is of some of the music that will be performed on the tour. In addition there are items by two soloists who are closely associated with the orchestra. They are Marie Efford and Harley Jones.

Marie Efford, a student of Harley Jones, is one of New Zealands most talented young musicians. In 1983 she was placed 7th in the World Accordion Championships, held in Linz, Austria and was awarded a special award for being the highest placed lady performer.

Harley Jones, an orchestra director and virtuoso performer has performed on radio and television in many countries throughout the world.

Tom Collins, Invercargill March soloist is a well known accordionist from the USA. While Tom Collins was visiting New Zealand he was invited to arrange and record a solo with the orchestra which he will be performing with the orchestra at some concerts during their North American Tour.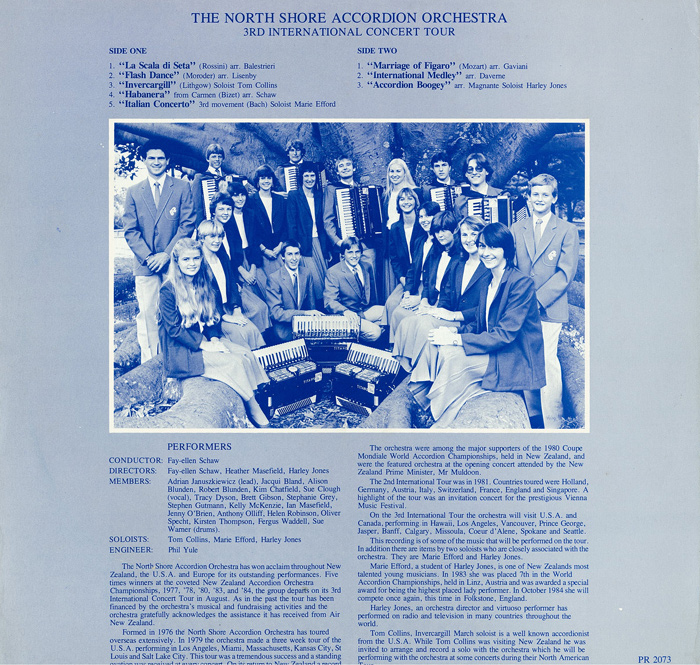 New Zealand Historical Recordings Series

About New Zealand Historical Recordings Series

The New Zealand Accordion Association Inc (NZAA) has a project in support of the Dargaville Museum 'Accordion Gems ...A Master Collection of Accordions through Time' ... This major accordion display was initiated by our NZAA Life Member Kevin Friedrich.

The NZAA project is to find all the old historic recordings of accordion performance. Many of these performances were recorded in high quality for National Broadcast Radio or on LP or EP's. The NZAA project is to remaster these historic recordings to modern digital files, able to be played as CD's.

Gary Daverne has already remastered some of them for the NZAA, to be ready in time for the NZAA 40th Anniversary Celebrations, 4th and 5th June 2011. Gary Daverne has been of invaluable assistance in this remastering of these old recordings and we thank him for his greatly appreciated help.

The results are very good quality, so much so, that the decision has been made to re-release these recordings on the MusicForAccordion.com website as well as to have them form part of the Dargaville Museum accordion history display.

Others New Zealand Historical Recordings Series

Virtuoso Accordionists featuring Harley and Maurice Jones (1975)

New Zealand North Shore Accordion orchestra 1979

Timelapse featuring Maurice Jones, John Statham and Paul Marshall (vocals) 1980 and 1986

Air New Zealand Accordion Orchestra 1986

Air New Zealand Accordion Orchestra (1992)

Silvio De Pra 1997

Coupe Mondiale 2009 Finale Concert