The Spanish composer, Jesús Torres, has written of Angel Luis Castaño: " The multifaceted possibilities of the instrument were introduced to me for the first time by this extraordinary accordionist. Extraordinary for many things: his extreme sensitivity, bewildering technique and intelligence, wich made him a complete artist, with a deep understanding of the essence of each piece, and most importantly, mastery in communicating it to the audience".

The Spanish accordionist Angel Luis Castaño, is one of the world´s leading performers. Born in San Sebastian in 1969, he was educated at the Paris Conservatoire, where he won the Premier Prix, and at the Royal Academy of Music in Copenhagen. He has won many International Competitions, including the International Accordion Competition "Coupe Mondiale" in Trossingen in 1990.

He has raised the accordion´s reputation as a "serious" instrument in Spain, collaborating and premiering the music of the most exciting and original Spanish composers (David del Puerto, Jesus Rueda, Gonzalo de Olavide, Jesus Torres, Cesar Camarero, Fabian Panisello, Polo Vallejo, etc…) to allow a deep undestanding of the instrument´s enormous possibilities, promoting their music and teaching young European accordionists, many of whom have gone on to win international competitions and establish important careers as accordionists.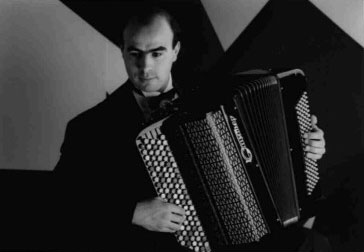 Since 1993 he has been Professor of the Segovia Conservatory and now he is Director of Accordion Department at Superior Zaragoza Conservatory. As well as teaching classical accordion, he enjoys a busy international career, playing with orchestras and ensembles, as well as teaming up with other musicians as Ananda Sukarlan, David Apellaniz, Claude Druelle, Trio Arbos …

He has recorded several CDs with original music for accordion by Sofia Gubaidulina, Yuji Takahashi, Arne Nordheim, Patrick Busseuil, Jean Ives Bosseur, César Camarero… and also works by J.S.Bach, I.Stravinsky, M.Moussorgsky, A.Piazzolla…

Contact:
Email: alcastano@gmail.com

"Castaño has been instrumental in bringing the accordion to the forefront of serious music, and his virtuoso performance last night showed why. His playing ranged from the lightest delicacy to pomp of an order usually reserved only for the grandest of church organs". (Edinburgh Evening News).

---