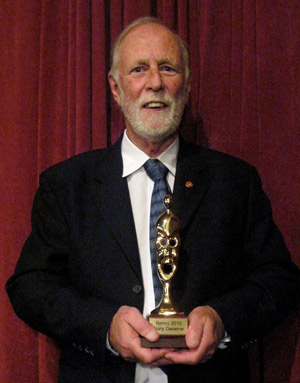 On October 27 2010, Gary Daverne was recipient of the prestigious 'Benny' Award, the highest honour that can be awarded to any entertainer in New Zealand.

The'Benny' Award from the Variety Artists Club (VAC) is for services to entertainment in the fields of Music, Musical Theatre, Acting and Film.

This major award is named after a famous NZ magician Edgar Benyon who received the first award in 1969.

A Benny is awarded each year to an entertainer or someone in the industry who has excelled or contributed to the industry above the "norm". The previous month (September), Gary was also presented the Companion of North Shore City Award, 'for exceptional service to the North Shore Community' by the Mayor of North Shore City Andrew Williams.

Gary was appointed an Officer of the New Zealand Order of Merit (O.N.Z.M.) in the 1996 Queen's Birthday Honours in recognition of his services to music.

In November 2000, Gary was presented the prestigious Scroll of Honour by the Variety Artists Club of New Zealand: "for his dedication and skill in his craft and for bringing the joy of orchestral music to the people. We acknowledge his achievements and salute his professionalism."

In 2005 the Rotary Foundation of Rotary International, named Gary a Paul Harris Fellow.
He was appointed Music Director for the 1975 New Zealand Waitangi Day Celebrations attended by Her Majesty, the Queen of England and other members of the British Royal Family. He is probably the only civilian in recent British history to musically direct a Royal occasion conducting the Royal New Zealand Navy Band, without a commission.

At the 2009 Coupe Mondiale, held in the Bruce Mason Centre, North Shore City, Auckland, New Zealand, Gary conducted the world premiere of his composition Auckland March performed by the World Accordion Orchestra III, 147 accordions representing 14 nationalities.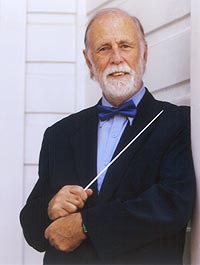 Gary was also presented at the 2009 Coupe Mondiale World Accordion Championships, the Confederation Internationale des Accordeonistes (CIA) Honored Friend of the Accordion Award "Recognizing the significant contributions of Gary Daverne to the development of accordion music and performance, both in New Zealand and internationally."

He won First Prize at this event with his commissioned solo accordion work titled Koriana (accordion in Maori).

Gary was born in Auckland, New Zealand, educated at Auckland University and Auckland Teachers Training College. He started his musical career in brass bands as a euphonium player, later changing to clarinet, playing in symphony orchestras, jazz combos and top New Zealand 'rock' bands during the 60's.

In the late 60's, he moved to London, where he stayed for 4 years, studying composition and conducting, while teaching and playing piano in a trio with his brother, Wayne, who was a drummer/vocalist. Gary also studied conducting in Hawaii and Switzerland.

Gary started playing the piano seriously when he was 21 becoming a top line jazz and rock/pop pianist. He also doubled on alto and tenor saxophones with the clarinet.

He stayed on in the brass band world for many years as a percussionist and drummer while continuing to play in symphony orchestras as a clarinetist and professional percussionist.

Gary's first venture into professional musical theatre was in 1974 when he was musical arranger and director for the highly successful, Australian, Christian Rock Musical Man of Sorrows, composed 1969 by Enzo Topano and based on the Life of Jesus.

The following year Gary was to write his own rock opera, the first of a few, to a libretto by Ed Justin, Hi Ya Messiah. The show had a long run, with large enthusiastic audiences and was a musical and financial success, although a repeat performance has never occurred. Several songs were recorded by the cast and released on a 45EP. For the composer/musical director, it was a further milestone on the road of musical accomplishments.
Peter, a modern rock version of Ibsen's, Peer Gynt story and Robyn Hood: Outlaw Princess, (libretto by John Reynolds),a female rock version of the Robin Hood of Sherwood tale, followed shortly after, the latter receiving many successful productions, mainly in schools.

Gary is a qualified Secondary School teacher in Economics, Accounting and Music and was selected by the New Zealand Education Department as "Composer in Schools", a one year appointment that he held for two years in 1978/79. During that time he composed many songs and musicals for children that have remained very popular and are still regularly performed.

As a composer, Gary has written works for orchestra, accordion, children's songs and musicals, with over 500 TV and radio advertising jingles and film sound tracks. Interestingly enough, he did not compose any songs or music during his rock 'n' roll years, even though his band had several hit records.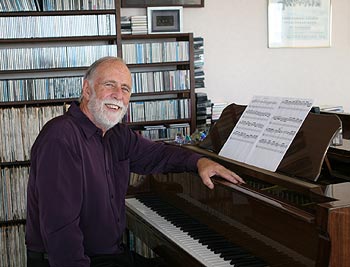 Gary is New Zealand's most prolific and successful composer and arranger of music for the accordion, although he does not play the accordion. His musical arrangements and compositions for accordion orchestras and solo accordion are still used extensively around the world.

He was highly regarded as an arranger and conductor for Television New Zealand, writing for many of the top New Zealand T.V. shows.

As a record producer, he has to his credit some 40 record albums including one 'platinum' and two 'gold' records

His first conducting experiences were with high school choirs and school music festivals.

His first professional conducting venture was with the highly successful, rock musical - Man of Sorrows, paving his way into musical theatre.

In March 1997, he was musical director for the Military Tattoo held in New Plymouth, with a total participating cast of over 1500. This involved the Army, Royal Navy and Royal Air Force Bands, 160 pipes and drums, including the Band of the Black Watch from Scotland, local brass bands, orchestra and a 300-voice choir.

Gary has held the position of Musical Director/Conductor, of the Auckland Symphony Orchestra. since its formation in 1975.

On the international scene, Gary has conducted many major orchestras including London's Royal Philharmonic, the Shanghai Symphony, the Taiwan Symphony, the Moravian Philharmonic-Czech Republic; conducted symphony concerts in Jakarta, Indonesia and the National Symphony Orchestra of Malaysia, featuring many of his own compositions.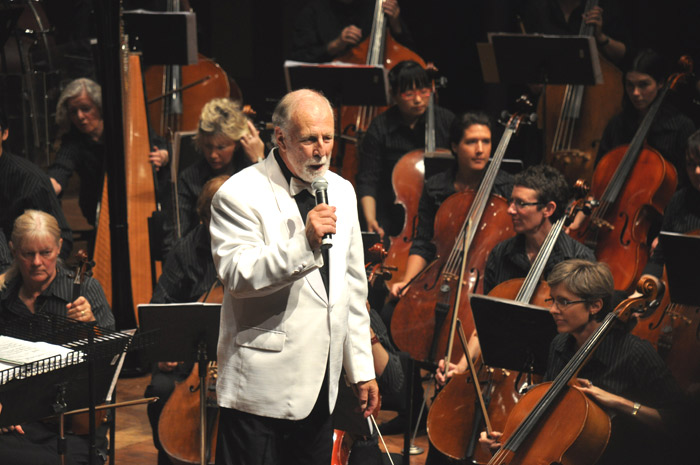 In 2002 he was the first New Zealander to be invited to conduct in South Korea, where he was guest conductor of the Incheon City Symphony Orchestra.

Gary is a frequent guest conductor with accordion orchestras in Germany and the USA, in recent years, conducting many concerts in Washington, Chicago, and Buffalo and throughout Texas.

In 2003 he travelled to Turkey to conduct the Turkish State Symphony Orchestra of Bursa, premièring his new commission, Gallipoli - Rhapsody for Trumpet and Orchestra.

In April 2005, again at the invitation of the Turkish Government, Gary conducted the acclaimed Istanbul State Symphony Orchestra in Istanbul, as part of the 90-year Gallipoli commemorations. His composition, 'Gallipoli' – Rhapsody for Trumpet and Orchestra - was included on the programme.

A recording of this work, along with his other original orchestral compositions, performed by the Moravian Philharmonic-Czech Republic, was released on the EMI Classics label, Gallipoli - New Zealand orchestral Music by Gary Daverne.

His third CD release by EMI: Rhapsody: New Zealand Music for Accordion and Symphony Orchestra by Gary Daverne was released in June 2007, performed by the New Zealand Symphony Orchestra and the Moravian Philharmonic-Czech Republic.

His first EMI CD release was Youth of Auckland - New Zealand orchestral Music by Gary Daverne, a re-release of an earlier RCA recording, performed by the New Zealand Symphony Orchestra.

Other CD releases of his original music include: Concert Accordion Music by Gary Daverne, five of his children's musicals: Panapa, The Floating Island, The Brothers Three, Young Mozart, Gypsy Girl (Diddikai) and How about Singing – Songs for Children.

With librettist, Dorothy Tomlinson, Gary composed the music for a two act opera, John Hobbs – A Man with a Mission. The story of the early 19-century Wesleyan missionaries in New Zealand.

In April 2007, Gary conducted the Auckland Symphony Orchestra on a concert tour of China, where they played to large, enthusiastic and appreciative audiences, in the cities of, Shanghai, Shi Jia Zhuang and Beijing.

The concerts in Beijing and Shanghai were televised and the Shanghai concert was screened for one hour, prime time television (Sunday evening 7 - 8pm), to an estimated viewing audience of 143 million.