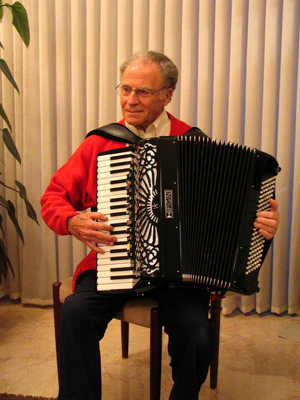 Yehuda Oppenheimer was born in Frankfurt am Main in April, 1925. As a child of three he tried to play on the piano all the tunes that he had heard in his kindergarten. When he was six he terrorized his parents to buy him an accordion. From that moment, he succeeded in playing the instrument and made great progress, despite the fact that he never had one accordion lesson in his life.

In Israel Yehuda, now 20, studied the violin at the Conservatoire in Jerusalem. He then found out that he could earn a living by playing the accordion at convalescence homes and hotels. He toured the country doing this and would sometimes earn money busking, describing himself as a poor artist-student. In the 1948 War of Independence, 23 year old Yehuda was in the army entertaining his fellow troops.

After leaving the army he established himself as a teacher of the accordion and has, over the years, taught many students from all over Israel, some of whom won first prizes at the international competitions.

In the late fifties he founded an accordion orchestra with which he worked for thirty years. In the menatime he recorded his first accordion album in 1998 'The magic Accordion of Yehuda Oppenheimer', which is half in the light-music style and half master arrangements of Classical music and an original piece for orchestra and accordion Rhapsody Israelienne, written for him by one of the foremost Israeli composers, March Lavry,Yehuda performs this with the NDR Symphony Orchestra of Hamburg. The second CD, is called 'Two Friends', contains compositions of Jozef Pritsch, who was an accordion teacher and half pieces by Yehuda. Lately he produced, as a present for his 80th birthday (in April, 2005) another CD with his ltest works, all typical accordion pieces 'Accordion Mon Amour'.


Contact:

adinaya@netvision.net.il