Renzo Ruggieri has performed all over the world to great acclaim. He specialized in jazz piano under Franco D'Andrea and since, has recorded numerous CD's as both leader and session player.

Much of his music been published and he has written teaching methods for important publishing houses. He is the leading exponent of Italian Jazz in formations that range from a DUO to the RENZO RUGGIERI ORCHESTRA.

With this orchestra he has had significant productions (Kramer Project, Napule 1000 Culure, Opera?) and written theatrical music (Novecento, Il Ratto di Proserpina, etc.) among which, the "Opera Theatre of Rome (La Leggenda del Fiore di Lino). He has written and arranged for such artists as Antonella Ruggiero (Souvenir d'Italie) with whom he performed at the Sanremo festival in 2007.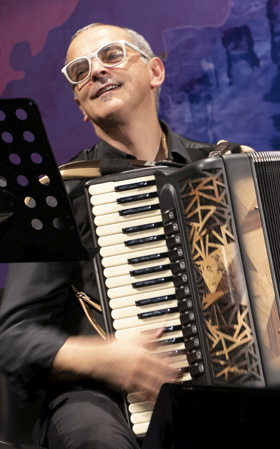 He was the first accordionist in the world to record a completely improvised work on his CD - SOLO ACCORDION PROJECT. He is Italy's first "jazz accordion" teacher and founded the CLUB VOGLIA D'ARTE, an organization of music schools that use an innovative teaching method that has already received international acclaim.

In 2009, at the Festival Internazionale di Castelfidardo, he was awarded the VOCE D'ORO whose previous recipients include: Astor Piazzolla, Richard Galliano, Gorni Kramer, Art Van Damme, Frank Marocco, Gil Goldstein, Wolmer Beltrami, Peppino Principe, Antonello Salis, etc.

He has collaborated with: Enrico Rava, Roberto Gatto, Danilo Rea, Franco Cerri, Lino Patruno, Gianni Coscia, Art Van Damme, Ares Tavolazzi, Peppino Principe, Bruno De Filippi, Paolo Damiani, Gianni Cazzola, Massimo Moriconi, Massimo Manzi, Paolo Di Sabatino, Marco Zurzolo, Ernesto Vitolo, Fabrizio Bosso, Mark Harris, Michael Supnick, Ellade Bandini, Lev Termen, Stefano Cocco Cantini, Mauro De Federicis, Sergio Caputo, Gino Paoli, Fabio Concato, Morgan, Dolcenera, Simone Cristicchi, Nicola Piovani, Piera Degli Esposti, Antonio Calenda, Germano Mazzocchetti, Davide Riondino, Judith Malina, David Haughton, Roberto Herlitzka, Tonino Guerra, Monica Guerritore.

He is artistic director of: www.pinetoaccordionjazzfestival.com, www.accordionartfestival.com

Contact:
Renzo Ruggieri
viale Europa 15
64026 Roseto degli Abruzzi
TE
Italy

renzoruggieri65@gmail.com
+39 085 8942272
+39 333 4926093
www.renzoruggieri.com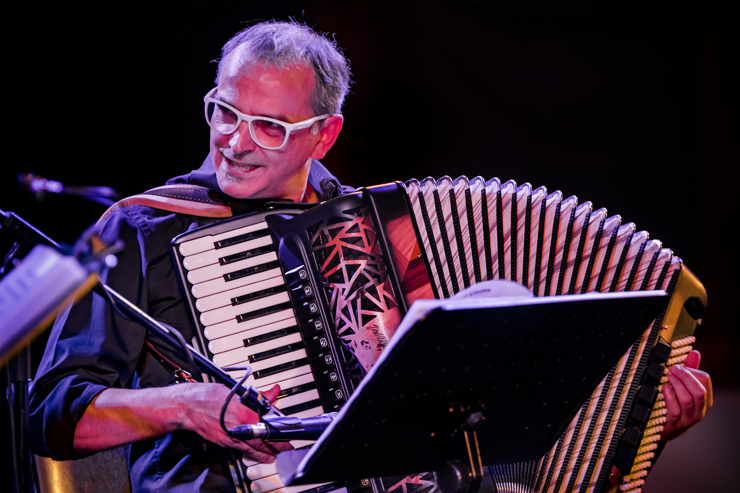 Renzo ha suonato in tutto il mondo. Ha studiato pianoforte jazz con Franco D'Andrea ed ha pubblicato decine di CD da leader e sideman, composizioni e testi didattici per importanti edizioni.

Attualmente si occupa di Italian Jazz con progetti che vanno dal DUO, al COMBO, alla RENZO RUGGIERI ORCHESTRA con i quali ha realizzato importanti produzioni (Kramer Project, Napule 1000 Culure, Opera?, Confini Labili) e molte musiche per teatro (Novecento, Il Ratto di Proserpina, etc.) collaborando anche con il Teatro dell'Opera di Roma (La Leggenda del Fiore di Lino) e con la famosa Antonella Ruggiero per la quale ha realizzato anche gli arrangiamenti (Souvenir d'Italie) e l'ha accompagnata al Festival di Sanremo 2007.

E' stato il primo fisarmonicsta a realizzare CD "completamente improvvisati" con la sua seconda anima il SOLO ACCORDION PROJECT ed il primo ad insegnare "fisarmonica jazz" in Italia. Ha fondato il CLUB VOGLIA D'ARTE un'organizzazione di scuole che segue una innovativa formula d'insegnamento con importanti riconoscimenti a livello internazionale.

Nel 2009 gli viene conferito dal Festival Internazionale di Castelfidardo il premio la VOCE D'ORO già assegnato ad A.Piazzolla, Gorni Kramer, R.Galliano, Art Van Damme, Gil Goldstein, Vinicio Capossela, Antonello Salis, etc.

Ha collaborato con: Enrico Rava, Roberto Gatto, Danilo Rea, Franco Cerri, Lino Patruno, Gianni Coscia, Art Van Damme, Ares Tavolazzi, Peppino Principe, Bruno De Filippi, Paolo Damiani, Gianni Cazzola, Massimo Moriconi, Massimo Manzi, Paolo Di Sabatino, Marco Zurzolo, Ernesto Vitolo, Fabrizio Bosso, Mark Harris, Michael Supnick, Ellade Bandini, Stefano Cocco Cantini, Lev Termen.

E ancora Sergio Caputo, Gino Paoli, Fabio Concato, Morgan, Dolcenera, Simone Cristicchi, Nicola Piovani, Piera Degli Esposti, Antonio Calenda, Germano Mazzocchetti, Davide Riondino, Judith Malina, David Haughton, Roberto Herlitzka, Tonino Guerra, Monica Guerritore. Attualmente è direttore artistico del www.pinetoaccordionjazzfestival.com, www.accordionartfestival.com