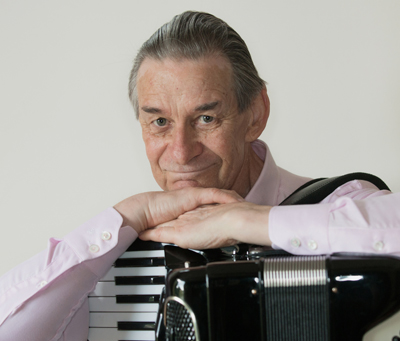 Douglas Ward has played the piano accordion for over 40 years (for 17 years professionally). In his youth, he won many accordion competitions in the UK.

The instrument has taken him literally around the world, as a bandleader aboard the large ocean liners Queen Elizabeth, Queen Mary, and Queen Elizabeth 2 (QE2) among others. Whilst at sea, he acquired a great love for cruise ships, and went on to become an expert in the field and the author of several books for Berlitz..

He was, for many years, deeply involved in all accordion activities in England as a teacher, adjudicator, and composer (he introduced the convertor free bass instrument to the UK).

In the mid 1960's, he worked as arranger and transcription artist for Charles Hansen Publications in New York, with an office on 5th Avenue (at 47th Street), and wrote the History of the Accordion for the USA's Contemporary Keyboard magazine (much of this article is featured on the Accordions Worldwide website).

He has adjudicated at the UK's National Accordion Organization's Accordion Day for several years. He moved to the USA again in 1979, where he lived for about 20 years. During that time, he adjudicated many accordion competitions including the annual National Accordion Championships held by the American Accordionists Association (AAA).

In 1968, together with Faithe Deffner, he helped organize the only Floating Accordion Festival aboard the cruise ship Galileo, when over 600 accordionists took part in a 6-day festival cruise from New York to Bermuda. He also taught for several years at the Acme Accordion School, operated by the respected contemporary accordionist and educator Stanley Darrow.

He has written more than 70 compositions for the instrument, varying from elementary solos and duets to albums for beginners to works for virtuoso performance. He lives in the New Forest area in southern England, and enjoys composing and adjudicating.